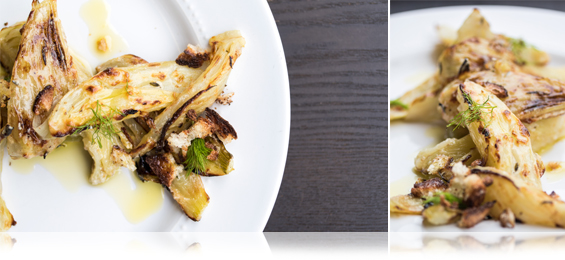 Truffled Milk-Braised Fennel
This rich side dish features the earthy-savoriness of black truffles, crunchy croutons, and the anise-flavor of fennel bulb.
Ingredients:
2lbs Fennel Bulbs (approx. 3 bulbs)
½ stick Unsalted Butter, cut into large cubes
½ quart Whole Milk
5 sprigs Fresh Thyme
1 tbsp Black Truffle Salt, plus extra for seasoning the croutons
1 piece of crispy, thin-sliced toasted Sourdough Bread
Fine Extra Virgin Olive Oil
Optional Garnish: Fennel Fronds
Directions:
Quarter the fennel bulbs & place them in a frying pan with the butter, truffle salt, milk & thyme sprigs.
Loosely cover with a disk of parchment paper with a slit cut into it.
Heat the pan on the stove until the liquid comes to a simmer.  Braise for about an hour (until a knife goes into the fennel pieces easily), flipping the pieces of fennel halfway through.
Remove the pieces of fennel from the braising liquid & reserve.  Strain the liquid, then return it to the pan and simmer it to reduce until it reaches a thick, creamy consistency.
Spread the fennel pieces out on a baking sheet and broil them until they start to brown, then remove them from the oven & put them in a bowl.
Press the fennel braising liquid through a fine sieve over the broiled fennel.  Toss to coat.
Crumble the toasted sourdough into rough, small croutons & season them with additional truffle salt.
Serve the fennel sprinkled with the sourdough croutons & the fennel fronds (if desired), drizzled with the olive oil.
__________
Browse More:
Truffle Recipes