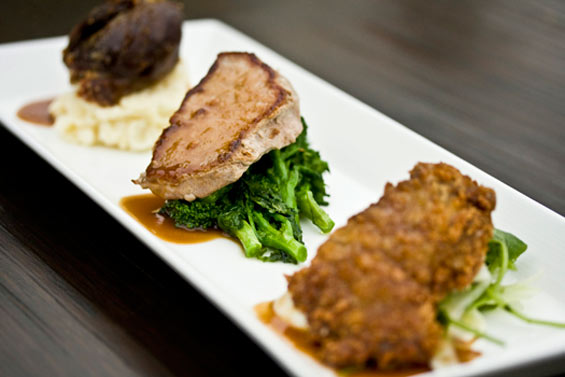 Black & Tan Sirloin, Shank Confit & Southern Fried

by Chef Dean Thomas
"This menu item features three various preparations for wild boar. First, I sear the loin and make a pan sauce using the classic combination of Guinness and Bass Ale as the inspiration for the Black & Tan Sauce. The shank is trimmed to remove the small bone and muscle then cured and simmered in duck fat. Finally taking the tenderloin, pound thinly to make a southern-fried fritter served with a fennel-watercress slaw."
Yield: 8 Servings
Created by: Dean A. Thomas, Executive Chef
INGREDIENTS:
Boar Shank Confit
8 each, trimmed 3 oz. with bone Fresh Boar Hind Shanks, trimmed to remove the small bone and muscle; cured for 24 hours
1 oz. Sea Salt or Kosher Salt
½ oz. Granulated Sugar
2 sprigs Thyme
2 cups to cover Rendered Duck Fat
Parsnip Puree & Fried Parsnip Chip Garnish
1 Lb. Parsnips, peeled, large diced, and shaved into chips to deep fry
Salt to taste
¼ cup Heavy Cream
2 tbsp Whole Butter
Loin, Black & Tan Sauce
8- 3 oz. portions Boar Loin Medallions, trimmed completely
Sea Salt & Black Pepper to taste
1 tsp. Butter
1 each Onion, thinly sliced
1/8 tsp. Caraway Seed, crushed
1 each Bay Leaf
2 tsp. Brown Sugar
2 tsp Ketchup
6 oz. Guinness Stout
6 oz. Bass Ale
6 oz. Veal Demi-Glace
1 tsp. Malt Vinegar
6 oz. Fresh Sweet Pea Tendrils
Shavings Super Aged Gouda Cheese, Winchester Cheese Farms
Boar Fritter
8- 2 oz. portions Boar Tenderloin, Sliced thin and pounded
Salt & Pepper to taste
1 cup All Purpose Flour
1 Whole Egg
1 cup Bread Crumbs
Fennel Watercress Slaw
1 large Fennel Bulb, blanched & thinly sliced
1 Lime, Zested & Juiced
1 tbsp. Extra Virgin Olive Oil
¾ cup Upland Cress & Amaranth Sprouts
Fennel Frond Oil, Salt & Pepper to taste
Method of Preparation:
For the Boar Shank, begin by separating the two bones and muscles of the shank, reserving the small shank inside; season and cure overnight. In a heavy gauge pan over low heat, lightly poach in the duck fat until tender and ready to fall of the bone. Reserve for service where the shank will be fried to crisp the outer skin.
For the Parsnip Puree, just cover the diced parsnip in salted water. Simmer until fully cooked. Drain and place into a blender, puree with the heavy cream and butter until very smooth. Reserve for service.
For the Black & Tan Sirloin, preheat a heavy duty sauté pan. Season the loin portions with salt & pepper. Sear the medallions over high heat in butter to caramelize. Do not overcook the boar; leaving for carry over cooking at just under medium. Remove from pan and reserve for service. Add the onions and slowly caramelize the onion, caraway seed, brown sugar, bay leaf and ketchup until dark and sweet. Deglaze the pan with both the Guinness and Bass Ale; reduce until about two tablespoons of liquid remain. Add the veal reduction and bring to a simmer. Strain and adjust seasoning with the malt vinegar. Reserve for service. Later the item will be arranged with blanched pea tendrils and shaved gouda.
For the boar fritter, season and lightly bread in a standard method. Deep fry until golden brown. For the slaw, mix all the ingredients and let rest for 1 hour in the refrigerator before service to allow the flavors to develop.
For Presentation & Service:
On a warm service plate, place two tablespoons of fennel-watercress slaw at one end, shingle with the boar fritter and drizzle with green fennel frond oil.
In the center, place two tablespoons of the parsnip puree in a small mound, shingle the crispy boar shank.
Finally, place the seared, rested boar medallion over a tablespoon of "black & tan" sauce and garnish with the pea tendrils.
Bon Appetit!