Makes 6 Appetizer Servings
WINE PAIRING
Riesling from Rheingau, Germany or Clare Valley, Australia
This satay sauce has a pronounced lime flavor blended with garlic and a tiny bit of heat from the jalapeno and pepper. The sourness of the lime accentuates the flavor of the grilled beef.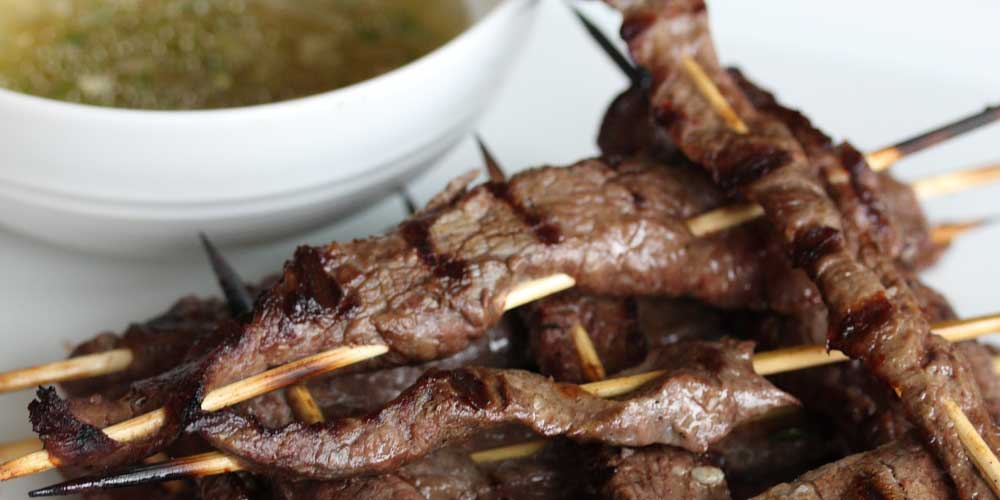 INGREDIENTS
Satay Sauce Ingredients

1/3rd of a jalapeno

1 tsp fish sauce

1 tsp sesame oil or peanut oil

1 small clove of garlic

Juice of 3 limes

¼ tsp freshly ground Tellicherry pepper
DIRECTIONS
1
Cut the tri tip into long ribbon-like strips (1/4" thick, 1" wide).
2
Thread each strip onto a bamboo skewer.
3
Finely chop or slice the garlic, remove the thyme leaves from their stems.
4
Lay the skewers in a large baking dish, two layers maximum.
5
Top the skewers with the garlic, thyme leaves and olive oil.
6
Cover the baking dish and move it to the bottom of the fridge to marinate for 2-24 hours (the longer the better).
7
Make the satay sauce: Fine dice the jalapeno and garlic. Mix them with the lime juice, fish sauce, sesame or peanut oil, and tellicherry pepper.
8
Season the skewered beef strips with salt.
9
Grill the skewers until they're cooked through, plate with the satay sauce on the side.