HOW TO THAW FROZEN PORCINI MUSHROOMS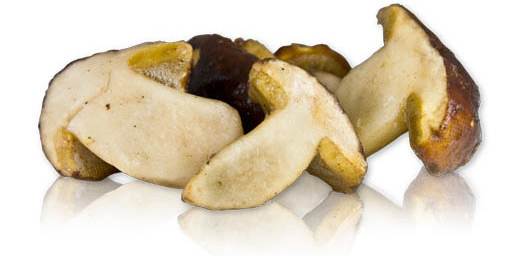 We're big fans of author and uber-forager Langdon Cook over at the blog Fat of the Land, and were excited to see that he'd run some frozen porcini thawing tests. We get asked about thawing frozen porcini mushrooms a lot, and he's provided expert information!
Here's a very brief summary of his findings, with a link to each blog post for the details and delicious recipe ideas.
| | | |
| --- | --- | --- |
| Thawing Method | Results | Fat of the Land Post |
| Counter Thawing | Not terrible, but not optimum. Somewhat soggy consistency before cooking, but crisped up nicely with a longer sauté than fresh. | Fettucini with Porcini, Garlic & Parmesan |
| Roasting Straight from Freezer (no thawing) | Best. Practically as good as roasted fresh. | Now That's Antipasti! |
| Thawed in Fridge (Still Sealed) | Very Good. Firmer texture & overall better results than counter thawing.  Still somewhat soggy before cooking (but less so). | The Great Frozen Porcini Test, Part 3 |