Thai Fish Cakes with Spicy Pickled Cucumber & Peanut Sauce
Makes 6-8 Appetizer Servings
WINE PAIRING
German Kabinett Riesling
Golden brown on the outside, tender & spongy on the inside, these fluffy fishcakes are paired with a fiery pickled cucumber & peanut sauce/relish.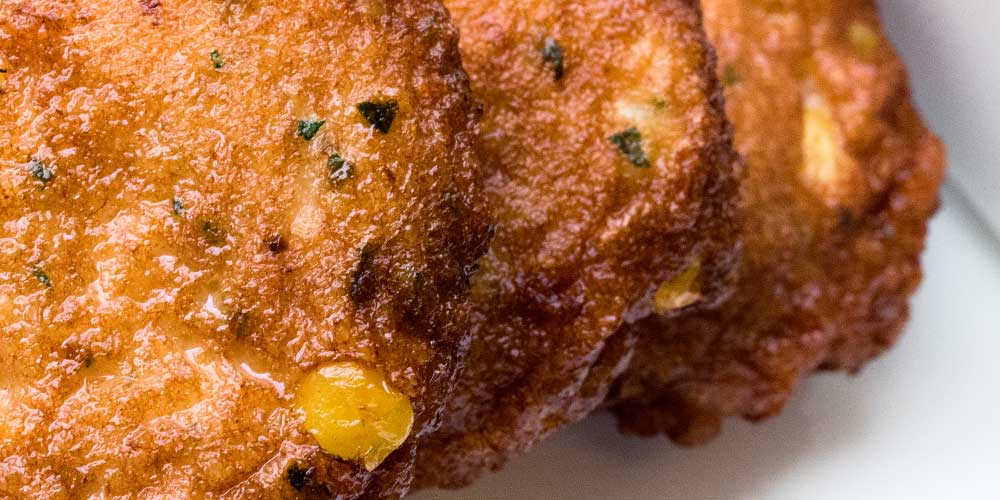 INGREDIENTS
Fish Cakes:

1lb Pacific Cod, cut off the bones

2 tbsp Thai Red Chile Paste

2 Egg Whites

½ tsp Salt

5 Minced Makrut Lime Leaves

½ cup Frozen Yellow Corn Kernels
Pickled Cucumber Sauce:

¼ cup White Vinegar

1/3 cup Sugar

½ tsp Prik Pon Chile Flakes

2 tbsp Fish Sauce (we used Red Boat Fish Sauce)

2 tbsp Roasted Peanuts, finely chopped

½ English Cucumber, finely chopped
DIRECTIONS
1
Make the Cucumber Sauce:
Put the prik pon in the vinegar & wait ten minutes. Then add all the other cucumber sauce ingredients & stir until the sugar dissolves.
2
Process the cod in a food processor to a fine paste.
3
Add the chile paste, egg whites, lime leaves & salt. Continue to process the mixture, stopping occasionally to break up any large clumps, for about 5 minutes, until it becomes a uniform, sticky paste.
4
Stir in the corn kernels.
5
Wet your hands with a little water and form the paste into ½" thick balls.
6
Pour about an inch deep layer of oil into a deep pot. Heat it to 350°F.
7
Fry the fish balls in the oil (working in batches & letting the oil heat back up between batches) until they puff up & brown.
8
Serve the fish cakes with the cucumber sauce.