Grass-Fed Beef Tenderloin Roast with a Mustard Potato Crust
Makes 4-6 Servings
WINE PAIRING
Left Bank Bordeaux
An easier tenderloin roast than a full beef Wellington recipe, but still evoking the dish with its look and blend of crunchy crust and soft inner roast.  We've paired it with a simple red wine, cream & herb pan sauce for a dish that's classy, but not stuffy.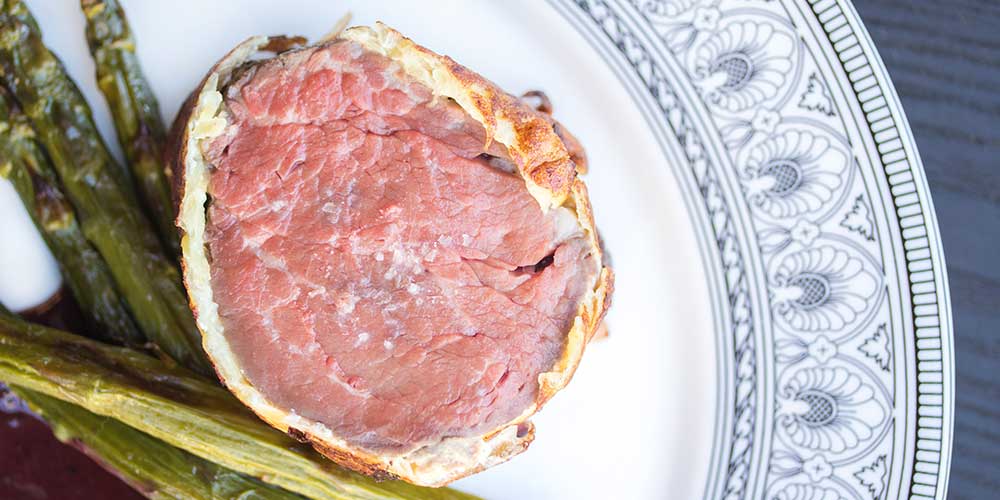 INGREDIENTS
Sauce:

1 cup Red Wine

¼ cup Crème Fraiche

1 cup Beef Stock

2 tbsp Mixed Minced Herbs (we used sage, thyme & dill)

2 tbsp Unsalted Butter

Salt to Taste
DIRECTIONS
1
Preheat your sous vide water bath to 122°F.
2
Optional: Tie the tenderloin with butcher's twine to compact the meat into a more uniform shape.
3
Rub the tenderloin with the umami powder on all sides.
4
Vacuum pack the tenderloin.
5
Place the tenderloin bag in the sous vide bath and cook for 3 hours.
6
Remove the tenderloin bag from the water bath and drain out the liquid. Cut off the twine if you tied it.
7
Pat the tenderloin portion dry & rub on the mustard until it's coated on all sides.
8
Peel the potato and grate it on the large side of a box grater. Squeeze all the liquid out of the shreds.
9
Whisk the egg white to loosen it up, then mix in the potato. Press the potato crust around the tenderloin on all sides.
10
Oil a cast iron skillet with the canola oil, get it smoking hot, then carefully lay in the tenderloin.
11
When one side of the tenderloin's potato crust has caramelized, gently roll it over onto another side, then continue to cook.
12
Once the tenderloin crust is browned on all sides, remove it from the pan.
Deglaze
the pan with the red wine and beef stock. Simmer the mixture until it reduces down to a third of its original volume.
13
Add the crème fraiche and herbs, and swirling them into the sauce. Taste and add salt as necessary. Continue to cook until the sauce coats the back of a spoon.
15
Slice the tenderloin and serve it with the pan sauce and your sides of choice.