Tempura-Fried Boquerones with Seared Lemon
Makes 4 tapas Servings
WINE PAIRING
Albarino
Crispy on the outside, meaty on the inside, these boquerones taste like a cross between fried pickles and lighter/more delicate anchovies/sardines.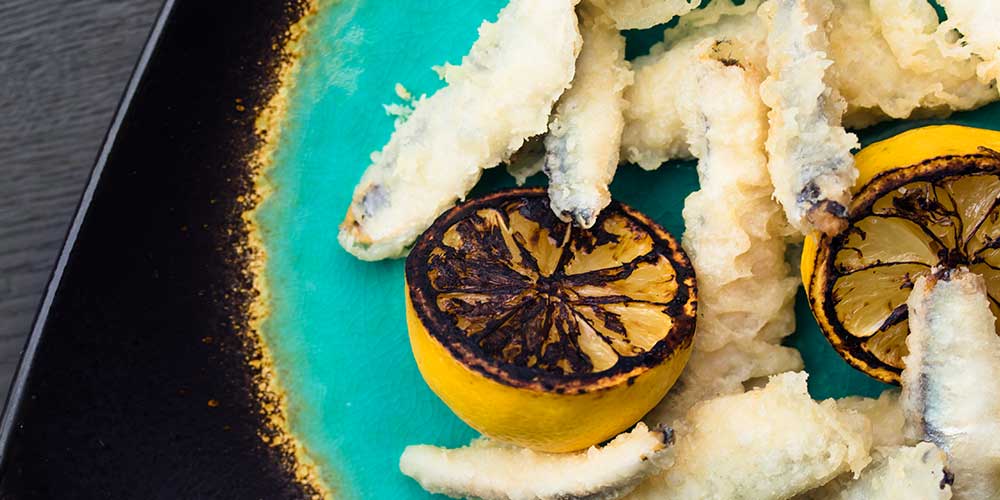 INGREDIENTS
Tempura Batter:

1 cup All Purpose Flour, plus extra to coat boquerones

1 tsp Baking Powder

½ tsp Fine Sea Salt

1 large Egg Yolk

1 ½ cups Ice Cold Water
2 cups High Heat Oil (canola, grapeseed, etc)

1 Lemon, halved
DIRECTIONS
1
Make the tempura batter: Combine the flour, baking powder, salt in a bowl. Whisk to combine.
2
In a separate bowl, whisk together the ice water and egg yolk.
3
Heat the 2 cups of high heat oil in a small saucepot to 350 degrees.
4
Dump the water & egg mixture into the tempura batter's dry ingredients all at once. Lightly whisk to combine (lumps are fine, don't over mix).
5
Drain the boquerones. Dip them into the extra all purpose flour to coat.
6
Heat a dry cast iron skillet over high heat.
7
Pick the visible seeds out of the lemon halves.
8
When the skillet is smoking hot, add the lemon halves, cut-side-down. Weight them down with another pan to ensure consistent contact with the skillet. Cook until the cut sides are well charred.
9
Dip the boquerones in the batter to coat, then carefully lay them into the oil. Fry them in batches, being careful not to overcrowd the pan.
10
Move the fried boquerones to a plate with paper towels to drain off excess oil. Serve immediately with the charred lemon for squeezing over them.