This mild dish features tea-poached pheasant in a mild white-wine cream sauce with warm grapes and just enough jasmine flavor to give it an aromatic, floral je ne sais quoi.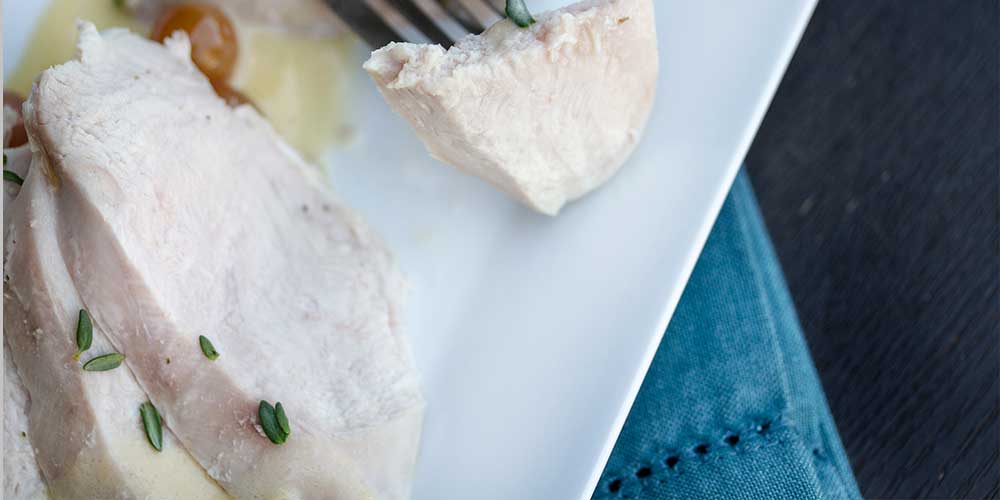 INGREDIENTS
20 Muscat Grapes (could substitute a blend of red & green grapes)
Poaching Liquid:

1 cup Whole Milk

2 cups Water

1 tsp Jasmine Tea

1 tbsp Kosher Salt
Sauce:

1 tbsp Unsalted Butter

1 Shallot, finely minced

1 cup White Wine

1 cup Chicken Stock

2 sprigs Fresh Thyme, plus extra for garnish

1 cup Heavy Cream

1 tsp Jasmine Tea
DIRECTIONS
1
Combine the poaching liquid ingredients in a pot.  Bring the liquid to a boil, then reduce the heat.
2
Poach the pheasant breasts in the liquid – it should be hot enough to steam, but shouldn't be bubbling.  Turn the breasts as necessary to cook all parts of them.  Cook until they reach an internal temperature of 160 degrees.
3
Melt the butter in a frying pan.  Add the minced shallot and
sweat it
.
4
When the shallot has softened and become translucent, add the white wine and thyme.
5
Simmer until the wine has evaporated, then add the chicken stock.
6
Simmer the chicken stock until it has reduced by half, then add the cream.  Simmer until the liquid reduces almost down to a sauce consistency.
7
Stir in the jasmine tea and continue to simmer for two minutes.
8
Strain the sauce and return it to the pan on the stove.
9
Optional: Peel the grapes.
10
Add the grapes to the sauce & simmer until they're heated through.
11
Slice the pheasant breasts & serve them with the sauce and grapes (10 per person), garnished with fresh thyme leaves.