Squid Ink Pasta w/ Squid, Tangerine & Peppers
Makes 2-4 Servings
WINE PAIRING
Vermentino or Albarino
This dish combines striking flavors with a striking presentation. Briny black pasta with tender squid, spicy piquillo peppers, crunchy breadcrumbs, salty bottarga & citrusy tangerine.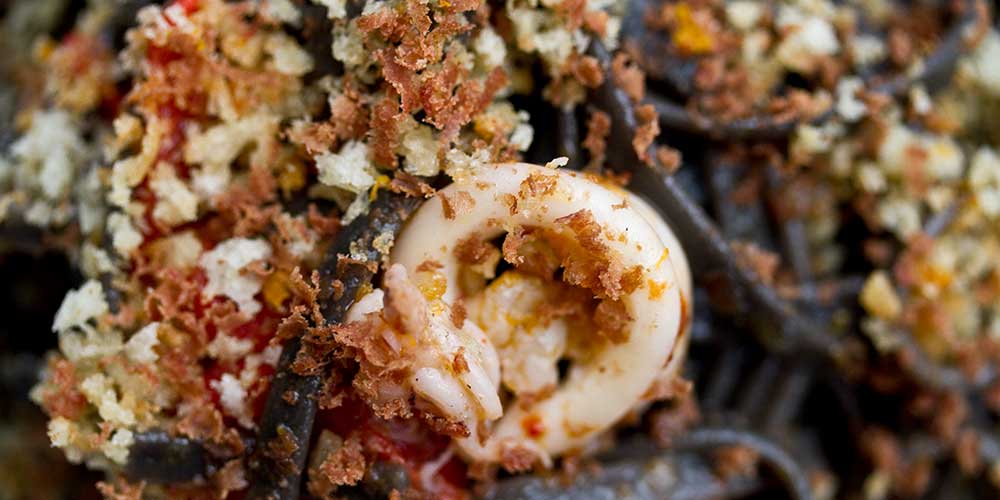 INGREDIENTS
1/2lb Dried Squid Ink Linguini

Half a 10 oz jar of Piquillo Peppers, drained & sliced

1/2lb Cleaned Squid (tubes & tentacles)

Bottarga Tuna Roe

Zest of 1 Tangerine (or zest of ½ an orange)

Juice of 1 Tangerine (or ½ an orange)

¼ cup Olive Oil, plus extra for toasting panko

¼ cup minced Shallot

2 big pinches of Red Chile Flakes

2 Garlic Cloves, minced

1 cup Panko Breadcrumbs

1 ½ tbsp Meyer Lemon Olive Oil, plus extra to finish

1 tbsp Red Wine Vinegar
DIRECTIONS
1
Bring a large pot of salted water to a boil.
2
In a separate pan, toast the panko breadcrumbs & half the orange/tangerine zest in olive oil until golden brown. Remove the pan from the heat.
3
Heat the ¼ cup of olive oil in a large frying pan or cast iron skillet over medium high heat. Add the minced shallot, chile flakes, piquillo peppers and minced garlic.
Once the pan gets hot again, add the squid and cook for just a few minutes – until the rings turn opaque and puff up and the tentacles spread like flowers.
4
Remove the pan from the heat. Add the rest of the zest plus the red wine vinegar and the tangerine/orange juice.
5
Cook the squid ink linguine in the boiling water until al dente. Drain off the water and add the pasta to the skillet with the squid.
6
Return the skillet with the squid to the stove, over medium low heat. Add the meyer lemon olive oil & stir to combine.
7
Once everything has been heated through, move the pasta and squid mixture to plates. Top each serving with some of the toasted breadcrumbs and a drizzle of Meyer lemon olive oil.
8
At the last second, add very finely grated (microplaned) bottarga to taste. Serve.