Tandoori Fried Quail Breasts w/ Mango Gremolata
Makes 6 Light Appetizer Servings
In this dish we've paired plump, moist spiced quail breasts with tandoori-spiced yoghurt and a tangy-spicy mango & chile gremolata.  The heat level here is balanced to be on the milder side, but you can totally amp it up if you prefer by adding another chile to the gremolata and increasing the chile powder in the breading.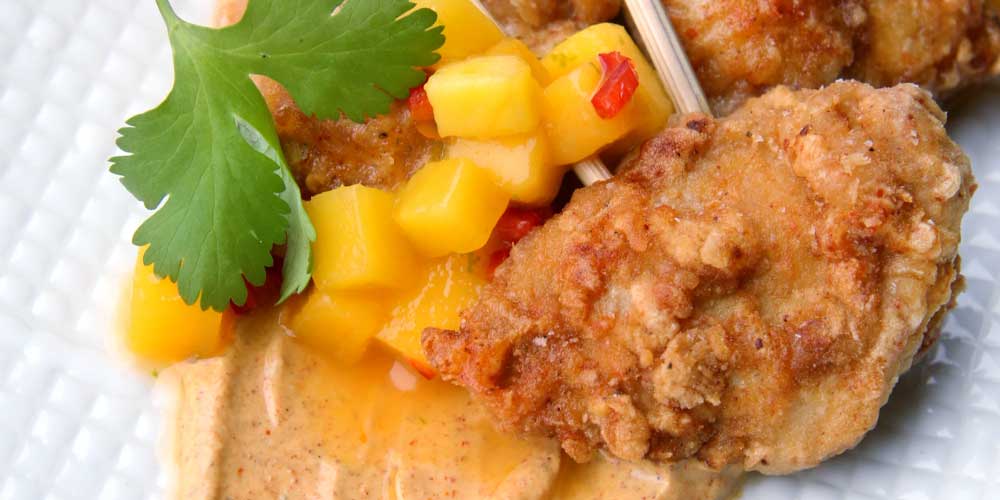 INGREDIENTS
½ + ½ cup Greek-Style Yoghurt

1 + 1 tbsp Ground Tandoori Spice Blend

1 Lime
Breading:

½ cup All Purpose Flour

1 tsp Salt

1 tsp Black Pepper

1 tsp Chile Powder

½ tsp Ground Nutmeg

½ tsp Ground Ginger
For the Mango Gremolata:

1 cup small-diced Mango

1 Fresno Chile or Jalapeno Pepper

1 tsp Lime Zest

2 tsp Lime Juice

Pinch Salt
Neutral-Flavored High Heat Oil for frying (grapeseed, canola, etc)
Cilantro Leaves to garnish
20 flat or 40 round Small Bamboo Skewers
DIRECTIONS
1
Combine the quail breasts, ½ cup of the yoghurt, 1 tbsp tandoori spices, and a squeeze of lime in a zip top bag, and massage to mix thoroughly. Marinate in the fridge at least 3 hours, or up to overnight.
Make the Mango Gremolata:
1
Small dice the mango. Deseed, destem, and mince the fresno or jalapeno.
2
Stir the mango & chile pieces together, add the lime zest and juice, and season to taste with salt
1
Mix the remaining ½ cup Greek yoghurt with the remaining 1 tbsp tandoori seasoning, a small squeeze of lime, and salt to taste.
2
In a small to medium saucepan, heat your frying oil to 350°F.
3
In a zip top bag, combine the flour, salt, chile powder, nutmeg, and ground ginger. Shake to mix well.
4
Pull each quail breast from the yoghurt marinade, shake off extra marinade, drop into the bag of flour, and shake to coat. Remove and shake off excess flour. Thread each breast onto 1 (flat) or 2 (round) skewers.
5
Fry the quail until golden brown, about 2 minutes each, and drain them on paper towels.
6
Spread a schmear of tandoori yoghurt on each plate. Top with 1-2 quail breast skewers, and scatter with the mango gremolata. Garnish with cilantro leaves, and serve immediately.