Szechuan Button & Lime Sorbet with Coconut Cream
WINE PAIRING
Kabinet Riesling
A tingly bitter-tangy palate cleanser to wow your guests. Serve in small quantities for the best effect, it doesn't take much!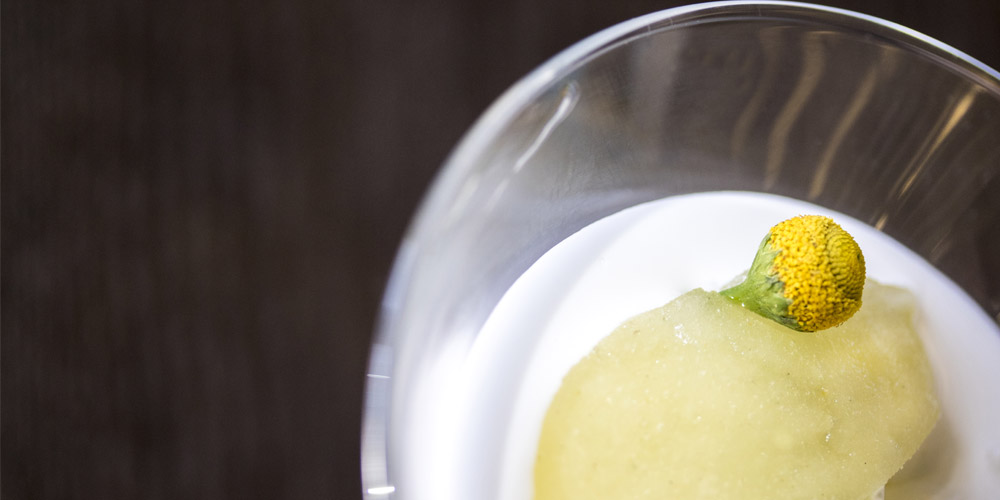 INGREDIENTS
29 Szechuan/Buzz Buttons, yellow tops chopped, stems discarded

½ cup Fresh Squeezed Lime Juice

1 ½ cups Water

½ cup + 2 tbsp Granulated Sugar
Coconut Cream

½ can Coconut Milk

1 ½ tbsp Superfine Sugar

1 squeeze of Lime Juice
DIRECTIONS
1
In a blender combine the lime juice, water, sugar, and buzz buttons. Blend to combine and puree the buttons.
2
Strain the mixture into a pitcher and put it into your refrigerator until it's well chilled.
3
Churn the sorbet base in your ice cream machine according to the manufacturer's instructions.
4
Move the churned sorbet to your freezer and freeze.
5
Before serving, mix together the coconut milk, squeeze of lime juice & superfine sugar.
6
Serve the sorbet with some of the coconut cream.