Sweet Potato Cakes w/ Wasabi Avocado Cream & Smoked Fish
Makes 6-8 Appetizer Servings
WINE PAIRING
Rose Cava
Ameal's worth of flavors and textures in a single bite – salty, creamy, buttery, smoky, spicy, and sweet.
These delightful little cakes are just the right size for parties and offer a different flavor and texture than blini, crackers or potato cakes. Serve them on a platter as appetizers or hors d'oeuvres.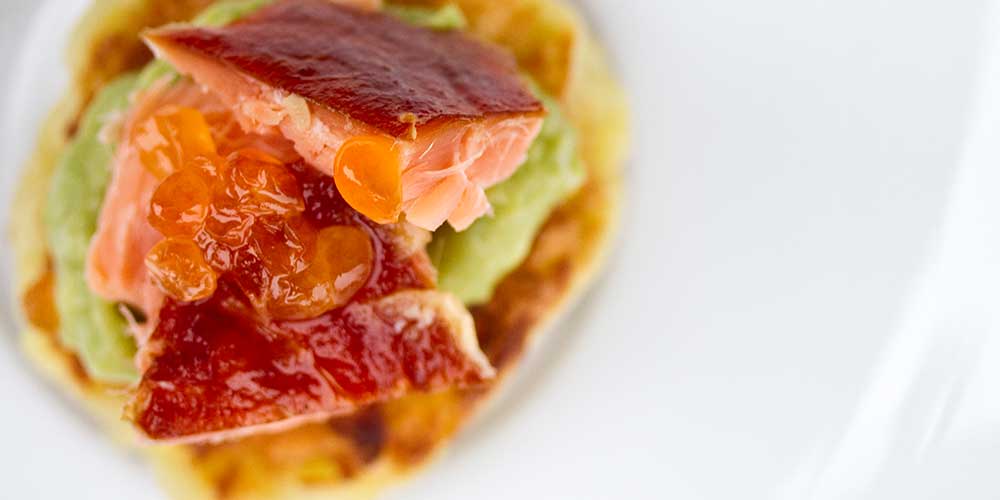 INGREDIENTS
Wasabi Avocado Cream:
1/2 tsp Grated Fresh Wasabi (or ½ tsp water + ½ tsp wasabi powder, or ½ tsp wasabi paste)

1 Avocado, peeled and de-seeded

2 tsp Lemon Juice

½ tsp Alder Smoked Flake Sea Salt
Sweet Potato Cakes:

1 Sweet Potato, Grated on Large Holes of a Box Grater

Optional:

½ cup Finely Grated Daikon Radish

2 Eggs, beaten

1/2 Cup All Purpose Flour

1 tsp Kosher Salt

Black Pepper to Taste

2 tbsp High Heat Oil (Canola, Peanut, Grapeseed, etc)
DIRECTIONS
1
Peel & grate the sweet potato using the large holes on a box grater.
2
Put the grated sweet potato in a bowl. Stir in 1 tsp of kosher salt. Let it sit for about 10 minutes to sweat out some moisture.
3
Make the Avocado Cream:
Mash, blend or food process the avocado with the lemon juice and smoked salt until a smooth puree. Stir in the wasabi.
4
Squeeze the moisture out of the sweet potato.
5
Optional: If using the daikon, squeeze the liquid out it as well.
6
Add the flour, two eggs, black pepper to taste and daikon (if using) to the sweet potato in a large bowl. Stir to combine.
7
Heat the 2 tbsp of oil in a cast iron skillet over medium-high heat.
8
Dip your hands in water, and start forming cakes from the sweet potato dough. Pick up a golf-ball-sized portion of the dough, pass it between your hands to roll it into an even ball, then flatten until roughly 1/3" thick.
9
Add the cake to the pan, pan fry it until the bottom side is golden brown, then flip.
10
When both sides of the cake are golden, move it to a paper towel to drain and cool. Taste to test seasoning, then add additional salt or pepper to the dough as necessary.
11
Form & cook the rest of the cakes.
12
Top each cake with some of the wasabi avocado cream, small portions of smoked fish, and 3-4 ikura eggs. Serve.
Note: You won't use the whole jar of ikura in this recipe, but you can't thaw less than a jar (and shouldn't really refreeze it). Store leftovers in your refrigerator and plan a follow up dish to use them within a week of thawing.