Serves 8 as a side dish; 4-6 as a vegetarian main
A bright and summery pasta dish that can be served warm or cold. The addition of fresh mozzarella would make this a great vegetarian main dish.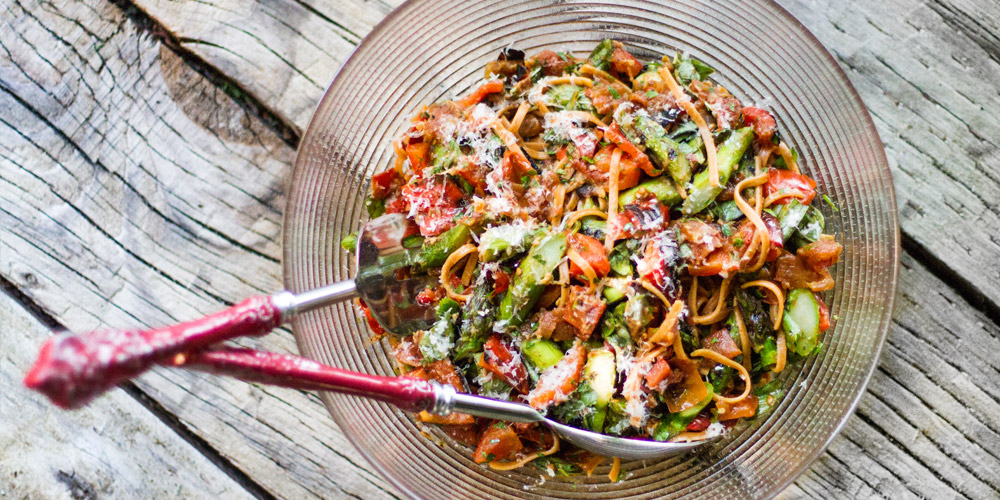 INGREDIENTS
6-8 spears of Asparagus

2 Red Bell Peppers

3 Tbsp Olive Oil, divided

1 pound Red Chile Linguini

3 cloves Garlic, chopped

4 Tomatoes, diced

1 tsp dried Oregano

1 tsp Aleppo Pepper

1⁄4 cup Balsamic Vinegar

1 tsp Sea Salt & ground Black Pepper to taste

3 Tbsp Italian Parsley, chopped

3 Tbsp fresh Basil, torn

1⁄4 cup grated Parmesan Cheese
DIRECTIONS
1
Bring a pot of water, salted to taste of the ocean, to boil over high heat.
2
Sauté the garlic in 1 Tbsp of olive oil until aromatic but not yet browned. Add the chopped tomatoes, oregano, and balsamic vinegar and cover, simmering for 7-10 minutes until the tomatoes fall apart. Taste and add salt and pepper as needed.
4
Snap off any woody bottoms of the asparagus at their natural breaking-off point. Cut the red bell peppers in half and remove all seeds and ribs. Cut the peppers into bite sized pieces. Toss both the pepper pieces and asparagus in 1-2 Tbsp of olive oil, salt and pepper, and place on a hot grill until they're lightly charred and still crisp-tender in texture.
5
Boil the pasta approx. 8-9 minutes, until al dente, and drain.
6
Place pasta in a large bowl. Cut the grilled asparagus on a sharp bias into bite-sized pieces, and chop the grilled bell pepper into bite-sized diamond shapes, and add both to the pasta. Add the tomato balsamic sauce, parsley, basil, and parmesan cheese, and toss until well combined. Serve warm.