Emily from Paper Cake Scissors guest posts below with some refreshing cocktail recipes that are perfect for easy summer entertaining because the flavorings can be made ahead and easily mixed with alcohol on the fly…she calls them "Cool 'tails":
…………….
If you follow trends in the food and drink world, you know how cocktails are the always-stylish little black dress of the culinary realm, showing up in endless forms and pairing themselves with everything from bar snacks to blue cheese. I read endless amounts of drink recipes and am lulled into a sense that yes, I too can have friends over and whip up fancy drinks for them.
In my fantasy, I break out the Boston shaker, clap it together like a pro and concoct complex, fantastic drinks containing St.-Germain and absinthe garnished with bacon foam, all the while wearing a cute (stain-free) outfit and carrying on stimulating conversation. The reality is that I used my Boston shaker only once, discovering that after vigorously shaking a cold drink, the shaker created a vacuum that Dyson has never seen the likes of. I was left to ponder which half of the device I would rather destroy to extract my perfectly-mixed Negroni from its icy death grip; I have not touched the shaker since.
These days, my dreams of entertaining with classy adult beverages involve premixing elements and creating punch-like concoctions, which, after you've had a couple, you can just tell your guests to pour their own. You'll stay cool and calm and even have time to visit with your friends. Check out my original recipes below for two super summer drinks, inspired by Marx Foods' extraordinary whole spices and the beautiful summer fruit that will start appearing any day now – even up here in Vermont!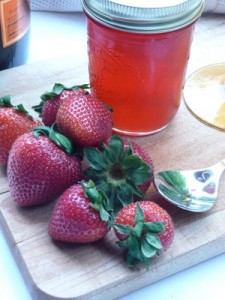 The Ladyslipper
Who doesn't love fresh strawberries? And if you up the ante with vanilla, star anise, hibiscus flowers, and Prosecco – what's not to like?
½ c. sugar
1 c. water
½ vanilla bean (Tahitian or Madagascar), open and split
2 star anise, slightly broken
3 – 4 dried hibiscus flowers
5 large, hulled and quartered strawberries
First, make the syrup several hours (or one day) ahead:  Mix the sugar and water together in a saucepan and heat until barely boiling. Add the vanilla bean, star anise, and hibiscus flowers and simmer gently for a few minutes. Remove from the heat and cool for 10 minutes, then pour the warm syrup over the strawberries – mash with the back of a fork. Cover and chill. When you are ready to use, strain out the solids and reserve to add back to the drinks if desired. The yield will be around 7-8 ounces, which should get you through a bottle of bubbly.
Drinkmaking is easy. Chill a bottle of Prosecco (or your favorite inexpensive sparkler). Pour a couple of tablespoons of syrup into a classy-looking flute, and fill with Prosecco. The thing that really puts it over the top is a drizzle of black currant liqueur (try Clear Creek Distillery's Cassis – it's especially delicious!) Add strawberry solids (if you want) and garnish with a whole strawberry.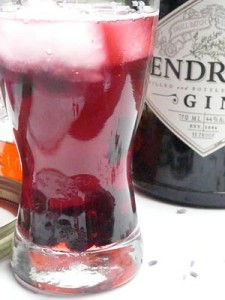 Earl of Juniper
Tea and alcohol? Yes, it really does work!
One bottle of gin (use a spirit with less prominent juniper notes, such as Plymouth or Hendrick's)
2 tsp. whole tellicherry peppercorns
1 tsp. dried lavender buds
6 tsp. loose leaf Earl Grey or Lady Grey tea, or a blend of the two
Huckleberries, fresh or frozen
Sparkling beverage of your choice*
First, make the infusion:  Lightly crack the peppercorns and bruise the lavender (I threw both into a ziptop plastic bag and mashed with a rolling pin). Add spices to a large enough container to hold the contents of your bottle of gin, add the tea, and pour in the gin. Infuse for 1½ hours, and taste; continue to infuse if it's not strong enough. Strain and pour back into the original bottle. (The ingredients can easily be halved or quartered if you don't want to infuse an entire bottle at once.)
When you're ready to mix it up, drop a couple of tablespoons of huckleberries (let thaw if frozen) in a tall glass and muddle; if you have a sweet tooth, add a touch of honey or agave. Add a shot of gin and fill with sparkling water, or to really jazz up the dark fruit flavors, add a sparkling juice (*such as Fizz Ed's Raspberry, IZZE's Blueberry, or R.W. Knudsen's Boysenberry). Garnish with freshly ground pepper.
**From acquainting herself with the lentil at the age of three, Emily has become a consummate foodie. She has recently discovered the wide world of wine and spirits and is studiously drinking her way from Albariño to Whiskey. Her blog, Paper Cake Scissors, is an exploration of food, wine, spirits, and life restoring a house in rural Vermont.
___________
Browse More:

Cocktail & Beverage Recipes
Huckleberry Recipes
Lavender Recipes