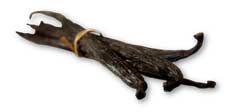 Plain vanilla, these photographs are not.  Come to think of it, don't you think that the expression "plain vanilla" is just plain wrong? As all of these photographers know, all it takes to perfume an entire house with a beautiful aroma is to have a few vanilla beans sitting on the kitchen counter. Consider yourself lucky if you have been invited to any of these photographer's houses for Thanksgiving…because they will surely be serving up desserts made with real vanilla beans, not plain ol' "vanilla" extract.
Thanks to all of the photographers who submitted the beautiful photographs below. In this photo challenge, we sent each of the contestants 6 Tahitian vanilla beans and 6 Madagascar vanilla beans.  The only criteria was that the "vanilla beans must be involved in some way in the photograph, regardless of whether the beans themselves are photographed raw or they are all dressed up in, say, creme brulee."
See all of the photo submissions from this challenge below.