Mushroom Stuffed, Mangalitsa Wrapped Veal Chop
Makes 1-2 Servings
WINE PAIRING
Pinot Noir from New Zealand or Dolcetto from Piedmont
These massive veal chops are great all by themselves, but they're also really easy to stuff with ingredients like cheese, mushrooms, and vegetables. For the below recipe we've used lobster mushrooms sauteed with thyme and shallots, but you could use any fresh, reconstituted dried, or thawed frozen mushroom.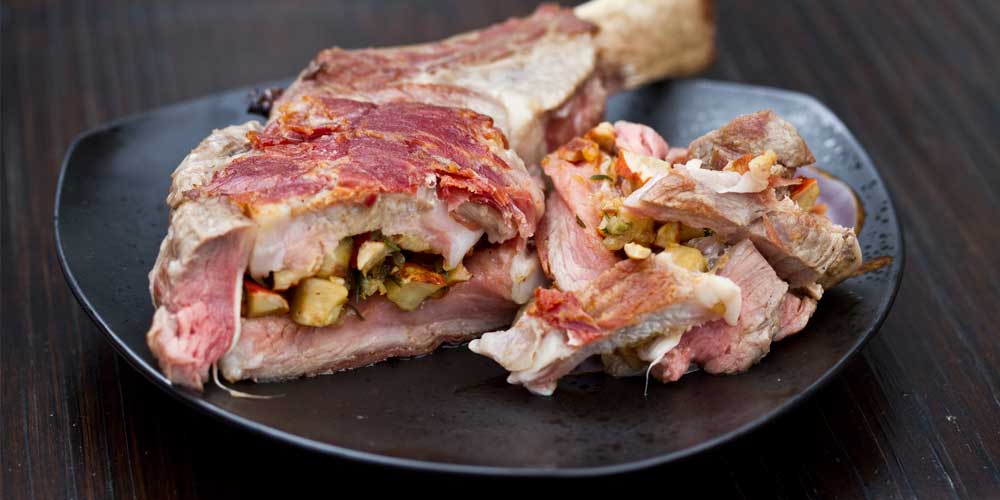 DIRECTIONS
1
Preheat your oven to 350 degrees.
2
Heat a small amount of olive oil in a frying pan on the stove. Add the shallot and sweat until translucent.
3
Add the mushroom cubes and thyme, increase the heat and sauté until the mushrooms are browned.
4
Remove the mushroom mixture from the stove and reserve.
5
Make an incision in the side of the veal chop. Cut about halfway through the chop and fold the two flaps apart to create a pocket.
6
Fill the pocket with the sautéed mushrooms and fold the chop closed around them.
7
Wrap the chop in mangalitsa ham, and tie it with butcher's twine wrapped around the entire length of the chop (except the bone).
8
Get a thin layer of oil hot in a cast iron skillet and carefully lay in the veal chop.
9
Sear the chop on the top and bottom to develop a nice crust.
10
Move the skillet to the stove and roast the chop to your desired level of doneness (about 15 minutes for rare/medium rare).
11
Remove the chop from the skillet, cover it with foil, and let the it rest for ten minutes.
12
Snip the butcher's twine and carefully unwind it from the chop without tearing the ham.
13
Serve whole or sliced.