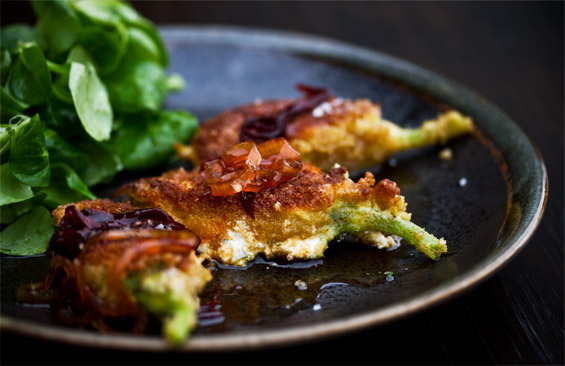 Pan Fried Squash Blossoms Stuffed with Ricotta, Lemon and Herbs
Served with a Chile Honey Vinaigrette
Stuffed squash blossoms are a colorful, fresh alternative to ravioli or dumpling appetizers. Besides being tasty, they're also suprisingly easy to make.
Drink Pairings: Alsatian Pinot Gris or German Riesling
Ingredients: (Makes 6 appetizer servings)
24 Squash Blossoms
1 ½ cups Ricotta Cheese
Zest of 1 Lemon
1 tbsp Lemon Juice
1 tbsp chopped Fresh Thyme
2 tbsp chopped Parsley
3 cups Mache or other tender Lettuce
Breadcrumbs to coat the blossoms
3 Eggs
½ clove of Garlic, sliced thin
2 Shallots, sliced thin
½ cup Honey
½ cup Champagne Vinegar
3 Dried Guajillo Chiles, seeded
1 cup Olive Oil
Salt and Pepper to taste
Small pastry bag or zip-top bag
Note: Mache lettuce is delicate, wait until the last second to dress it with the vinaigrette.
Directions:
1. Thinly slice the chilies, add them to a small saucepan with the vinegar, 1 of the shallots, chilies, garlic and honey.

2. Simmer the vinaigrette on the stove for 15 minutes.
3. Strain the vinaigrette into a bowl. Whisk in the olive oil until a smooth emulsion is formed. Taste for seasoning & add salt and pepper as needed.
4. In a separate bowl fold together the ricotta, lemon zest, lemon juice, thyme, parsley, remaining shallot, and salt and pepper to taste.
5. Carefully fill the inner cavity of each squash blossom with the ricotta filling (how to stuff a squash blossom).

6. Crack the eggs into a large bowl & scramble them with a touch of water and a pinch of salt.
7. Get a cast iron skillet very hot over medium heat, and coat the bottom with about an eighth of an inch of olive oil. Fill the bottom of a bowl with bread crumbs.
8. Gently dip each squash blossom the egg and turn to coat. Then move to the bread crumbs, and toss crumbs over the top to coat it.

9. Lay each squash blossom into the hot oil. Be careful not to overcrowd the pan – leave about a quarter inch of space around each blossom. Carefully angle the pan occasionally to move the oil around and ensure good coverage.

10. When the bottom of each blossom is brown and crispy, flip them with tongs and brown the other side.

11. When both sides are brown, remove them from the pan, and serve with the lettuce/mache on the side. Dress both the lettuce and the squash blossoms with the vinaigrette.
___________
Browse More:
Squash Blossom Recipes
Cheese Recipes
Fresh Herb Recipes
Edible Flower Recipes
Honey Recipes