Basil & Goat Cheese Stuffed Piquillo Peppers
Makes 4 Servings
WINE PAIRING
Albarino
Top notch appetizers don't get much easier (or delicious). These pequillos balance fruity roasted pepper flavor with creamy goat cheese, basil, and pine nuts.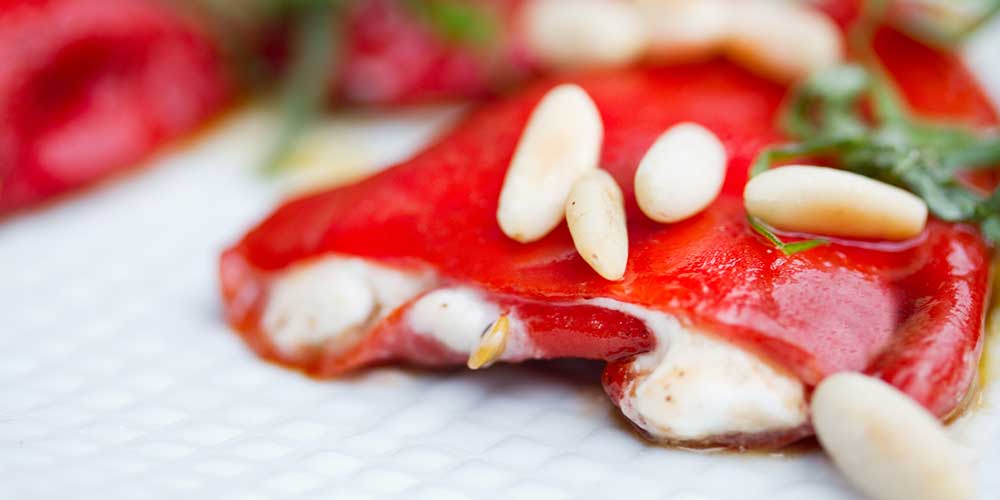 INGREDIENTS
12 Organic Roasted Piquillo Peppers, drained but not rinsed

4oz Young Goat Cheese (Chevre)

1 tbsp Pine Nuts

2 tbsp Milk or Water

1 Tbsp Fresh Basil, chopped

1 tsp Pinecone Bud Syrup

1 tsp Extra Virgin Olive Oil

Milk or Water

Extra Fresh Basil (cut chiffonade) for Garnish
DIRECTIONS
1
Lightly toast the pine nuts in a dry pan until lightly browned and aromatic.
2
Mix the goat cheese with just enough milk or water to make it smooth.
3
Stir the chopped basil into the cheese.
4
Stuff each pepper with a scant tsp of the basil goat cheese mixture. Gently massage the pepper to spread the cheese out in the cavity.
5
Arrange the stuffed peppers on a serving platter.
6
Drizzle the peppers with the pine cone bud syrup.
7
Sprinkle the peppers with sliced basil, toasted pine nuts and the smoked/extra virgin olive oil.