Saffron Rice & Chorizo Stuffed Cornish Game Hens
Makes 4 Servings
WINE PAIRING
White Bordeaux
Sweet, tender Cornish game hens stuffed with saffron rice seasoned with chorizo, vegetables and raisins.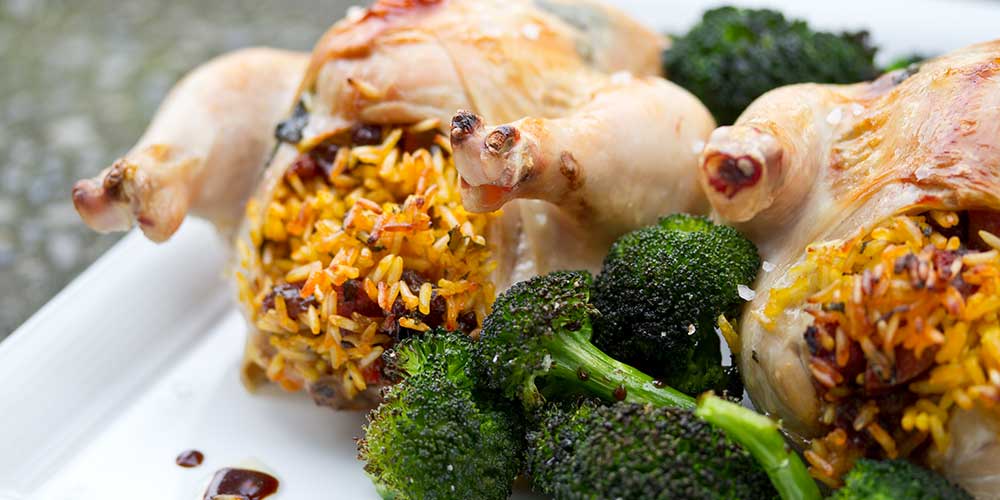 INGREDIENTS
4 Fresh Mint Leaves

2 tsp Unsalted Butter
Stuffing:

1 cup Spanish Sweet Chorizo, chopped

1 tbsp Olive Oil

1 tbsp Shallot, minced

2 tbsp Fresh Mint, chopped

½ cup Raisins

1/2 cup Chicken Stock

½ cup Onion, chopped

½ cup Celery, chopped

Saffron Rice Recipe (could substitute cooked & cooled Saffron Flavored Rice)
DIRECTIONS
1
Make the saffron rice and spread it out on a plate to cool.
2
Preheat your oven to 425 degrees.
3
In a frying pan combine the chorizo and tbsp of olive oil over medium low heat. Add the shallot and sauté until opaque.
4
Move the chorizo and shallot into a large bowl and stir in the saffron rice, mint, chicken stock and raisins.
5
Rinse & pat dry the game hens, season them with salt & pepper.
6
Gently pull the skin around the cavities up with your fingers and slide whole mint leaves and butter under it (2 leaves & 1 tsp of butter per bird).
7
Stuff the cavities with the chorizo stuffing mixture.
8
Put the onion and celery in a large oven-safe frying pan. Put the stuffed game hens on top of the vegetables and put the pan in the preheated oven.
9
Roast
until the hens have browned and reached an internal temperature of 160 degrees. Discard the onions and celery from the pan. Serve the birds with your choice of sides.