Makes 8 Servings
DRINK PAIRING
Singha Beer
Tender, tasty squid with caramelized mushrooms and bok choy stir fried with a blend of SE Asian flavors.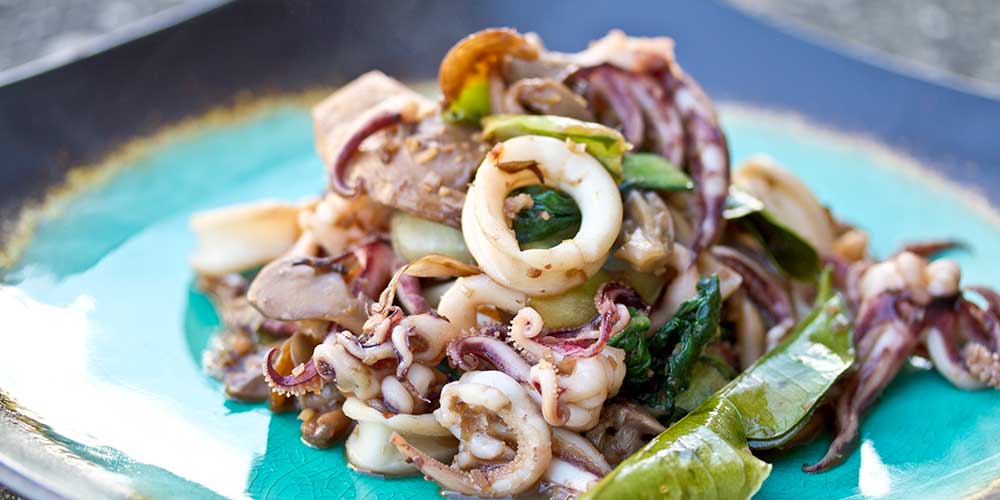 INGREDIENTS
1/2 lb Squid, tentacles and tubes

3 tbsp Red Boat Fish Sauce

1 ½ tbsp Sudachi Juice

3 tbsp High Heat Oil (grapeseed, peanut, etc)

1 cup Fresh Oyster Mushrooms,
1 cup Fresh Maitake Mushrooms, separated into fronds

3 heads Baby Bok Choy

1 stalk Lemongrass, finely minced

1 ½ tbsp Sweet Red Chili Sauce
DIRECTIONS
1
Separate the bok choy leaves from the stems and chop the stems into large chunks.
2
Slice the squid tubes into rings.
3
Over high heat, combine the oil and salt in a cast iron skillet, wok, or large frying pan.
4
Add the oyster & maitake mushrooms and saute them for a few minutes (until they start to caramelize).
5
Add the bok choy stems and kaffir lime leaves to the pan. Continue to stir fry.
6
Once the stems have caramelized, add the fish sauce, sudachi juice, chile sauce, bok choy leaves, lemongrass and squid.
7
Stir fry until the squid turns opaque and starts to curl (about 3 minutes).
8
Serve with sticky rice, jasmine rice, etc.