Squid Ink Pasta with Uni Sabayon
DRINK PAIRING
Dry Sake (Yamahai) or Hunter Valley Semillon from Australia
This is a visually striking dish thanks in a large part to ultra tender fresh squid ink pasta. The taste combines creamy uni sea urchin roe and the semi-metallic tang of squid ink.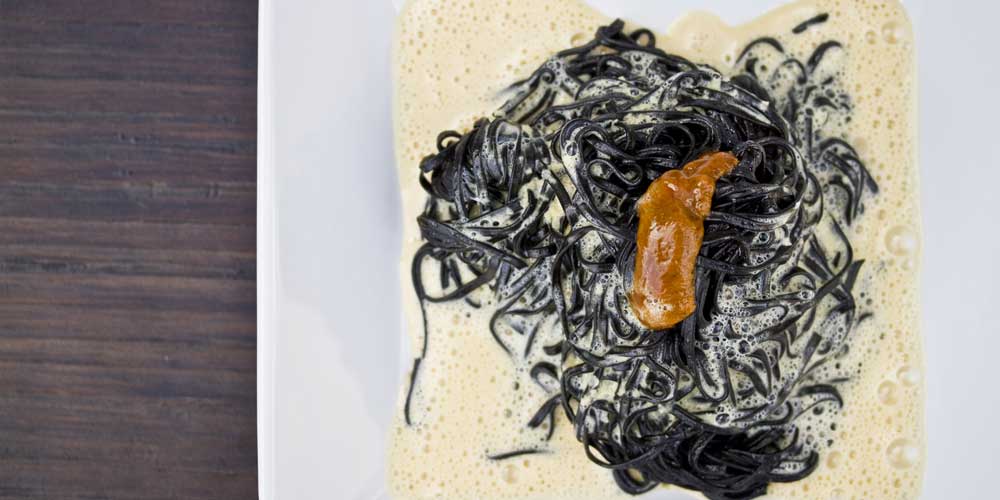 INGREDIENTS
2oz Fresh Squid Ink Pasta per person

½ small Shallot, minced

¾ cup Dry White Wine

1 Egg Yolk

1 Whole Egg

1 tbsp Heavy Cream

3 Uni Roe portions, sliced

1 Uni Roe portion per person, whole

1 Garlic clove, crushed

Premium Extra Virgin Olive Oil of choice (we used Il Casolare Olive Oil)

Sea Salt
DIRECTIONS
1
Saute the shallot in a little olive oil over moderate heat, just until it starts to caramelize.
2
Deglaze with the white wine & simmer to reduce by half.
3
In a large bowl whisk together the egg and egg yolk. Add a pinch of salt.
4
Slowly drizzle the wine mixture into the egg, while whisking constantly.
5
Whisk in the heavy cream, then the sliced portions of uni roe.
6
Rinse out the frying pan and drizzle in the extra virgin olive oil.
7
Whisk the egg mixture constantly in a bowl over a pot of boiling water until it approaches, but does not reach, a
napper consistency
(just before it's thick enough to coat the back of a spoon).
8
Simmer your fresh pasta on the stove until just shy of al dente, then move it to the EVOO oiled pan with just a bit of the pasta water. Season it with salt and add the crushed garlic clove. Briefly toss the pasta in the oil over medium heat.
9
Taste the finished sabayon and season if necessary.
10
Serve the pasta (leave the garlic clove behind). Garnish each plate a whole uni roe portion.
11
Just before serving, use an immersion blender to froth the sabayon, lifting the blender tip from the surface of the sauce ever so slightly on one side so that it whips in air.
12
Sauce the pasta with the frothed sabayon and serve immediately.