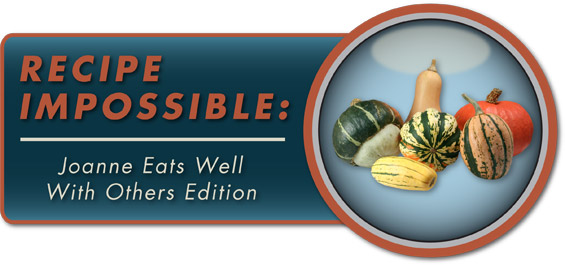 Joanne from Eats Well With Others and Marx Foods present "Recipe Impossible: Joanne Eats Well With Others Edition."  Here's Joanne:
———–
My mother spends the majority of every summer trying to convince me that I'm pale. 
She'll nag.  She'll drop severely unsubtle hints.  She'll hem and haw about how she'll never be a young grandmother because I'll never "catch a man" so long as you can see my veins through my skin (which, for the record, you most certainly cannot).
In short, she'll try to do whatever she thinks it will take to get me to sit in the sun with her and allow ultraviolet radiation to permeate my skin, toasting it until it is just crisp enough for her taste.  Which is to say.  Tan. 
She would trade my olive hued complexion for a permanent shade of tan any day.
Well, do I have news for her.  This fall.  I have a plan.  And that plan is to eat winter squash until I'm blue…err…I mean.  Orange.  In the face. 
Literally.
And you, my friends, are going to be my accomplices. 
Here's how it's gonna go down.  Ten of you are going to be sent a top secret mystery package from Marx Foods that is filled with 8 ingredients.  You are going to pair two of these ingredients with winter squash to create a dish that I'm going to be so floored by that I'm going to want to eat it in mass amounts until I reach my orange-complexioned goal.   It can be sweet, it can be savory.  Basically, it can be whatever you want as long as it's original, includes two of the mystery top secret ingredients, and features winter squash. 
There will be two winners, one selected by a reader's choice poll and one selected by yours truly, each of whom will receive a full sized order of three of the mystery top secret ingredients, whichever three the contestant wants.  And trust me.  These are some good ingredients.
Leave a message in the comments if you want to enter and then ten of you will be selected either at my whim or using a random number generator.  Please do this by October 10th otherwise you won't qualify to participate!
I told my mother she should be careful what she wishes for…
Check out the recipes bloggers entered: