Roast Squab w/ Black Truffles
Makes 2-4 Servings
WINE PAIRING
Barbaresco
The earthy, savory, garlic-y, mushroom-y flavor of black truffles pairs beautifully with poultry.  Here's a very simple squab dish that has tremendous flavor.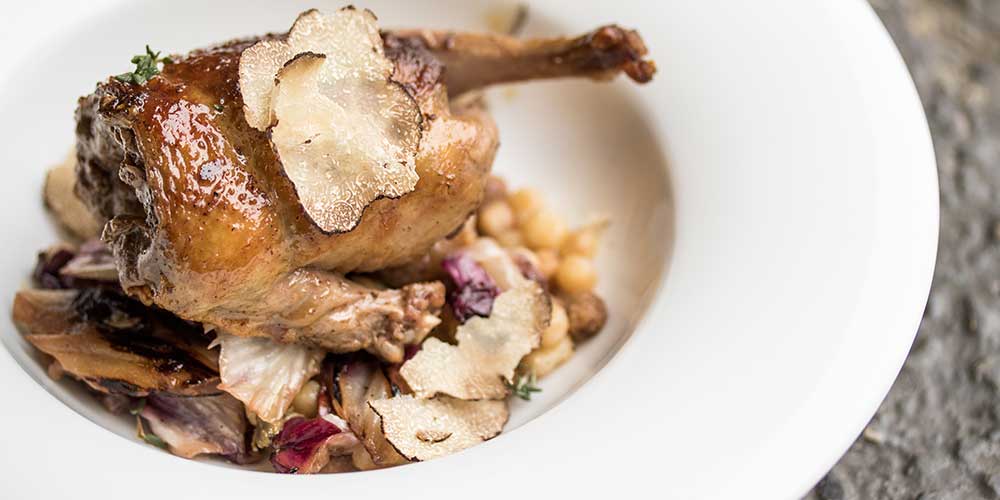 INGREDIENTS
1oz Fresh Black Truffles (we used Burgundy Truffles)

Black Truffle Salt

1 tbsp Unsalted Butter

1 stalk of Celery, large diced

½ Carrot, large diced

2 Parsley Stems

1 Thyme Sprig

¼ cup large diced Shallot
DIRECTIONS
1
Preheat your oven to 350 degrees.
2
Season the squabs inside & out with the black truffle salt.
3
Thinly slice some of the truffle and press it into the squabs' cavities.
4
Use butchers twine to truss the squabs so that they're closed around the inner meat & truffle.
5
Cut the wing tips and center wing joints from the squab.  Sear them in a hot oiled pan with the shallot, parsley stems, carrot, thyme and celery.  Cover with two cups of water & heat it to a simmer.  Simmer to reduce down to a cup in volume.
6
Sear the squab on the front and sides in a hot, oiled skillet until they're a beautiful browned color.  Then flip the birds on their backs and move the skillet to the oven.
7
Roast the squabs until their breast meat reaches 135 degrees.
8
Remove the squab from the pan and cut the twine off of them.
9
Put the squab back in the skillet.  Deglaze the pan with some of the squab stock you made.  When it reaches a simmer, add the butter & spoon it over the squab to glaze it.
10
Plate the squab with your choice of sides & shave additional black truffle over it.