Sous Vide Wagyu Short Rib w/ Parsnip, Apple & Kimchi
Braising these short ribs sous vide for 72 hours at 58°C results in meat that's exquisitely fork tender while still being moist & pink on the inside.  They're then seared just before serving to develop a nice brown crust.
Here they're paired with an apple-parsnip puree and kimchi paste – which is essentially everything in kimchi but the cabbage and fermentation.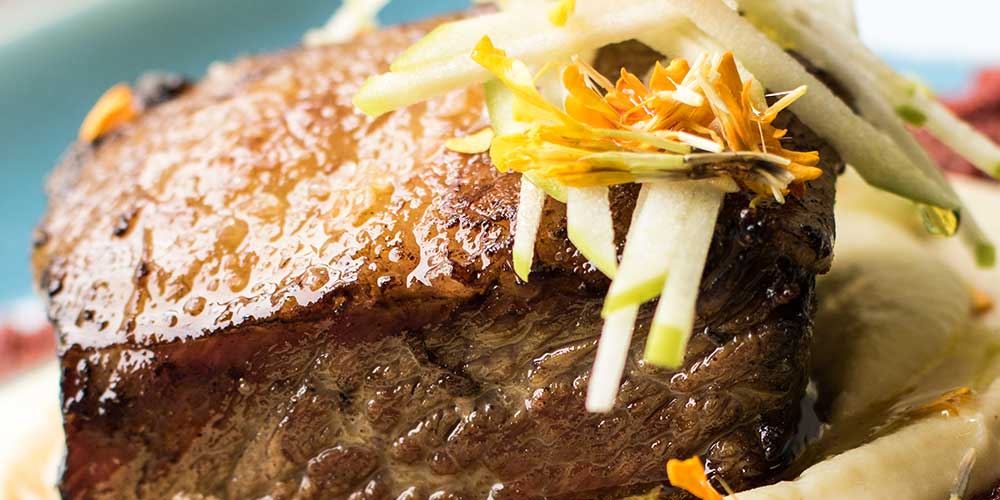 INGREDIENTS
Apple-Parsnip Puree:

1lb Parsnip

1 Green Apple (reserve 1 for garnish)

3 tbsp Olive Oil

1 qt Cream

2 tbsp cold Unsalted Butter
DIRECTIONS
Start the Ribs Three Days Ahead of Serving:
1
Cut the short rib meat off the bones (discard the bones).
2
Pre-heat a sous vide water bath to 58°C.
3
Cut the short ribs in to 4oz portions. Lightly season the ribs with salt and pepper. Place the pieces into vacuum bag(s) and seal.
4
Cook the ribs in the water bath for 72 hours.
5
Peel the parsnips and one of the green apples. Roughly chop them and sweat the pieces in a sauce pot with olive oil.
6
Cover the pieces with the cream. Bring the mixture to a boil and then reduce the heat to simmer for 15-20 minutes.
7
Strain the parsnip and apple from the cream, reserving the liquid as well as the solids. Place the solids in a high powered blender along with enough of the cream to cover half of them.   Puree on high until smooth. Then add the cold butter and continue to blend until combined.  Season with salt to taste.
8
Pre-heat a heavy-bottomed saute pan, when hot, sear sous vide short ribs to get a nice crust.
9
Smear Mama O's kimchi paste on the base of the plate.
10
Top with ¼ cup parsnip puree and place short rib on top.
11
Thinly slice the 2nd green apple and cut each slice into match-sticks. Garnish as desired.