Sous Vide Lamb Loin Fillets w/ Tapenade
Makes 4 Servings
WINE PAIRING
Cabernet Franc
This recipe features delicious, super tender lamb loin with an herby, zesty olive tapenade for brightness & contrast.
Cooked sous vide, this recipe is a superb choice for entertaining – the tapenade can be made ahead of time, and the lamb can be cooked sous vide without you needing to keep an eye on them. Just pull them out and sear them when you're ready to serve!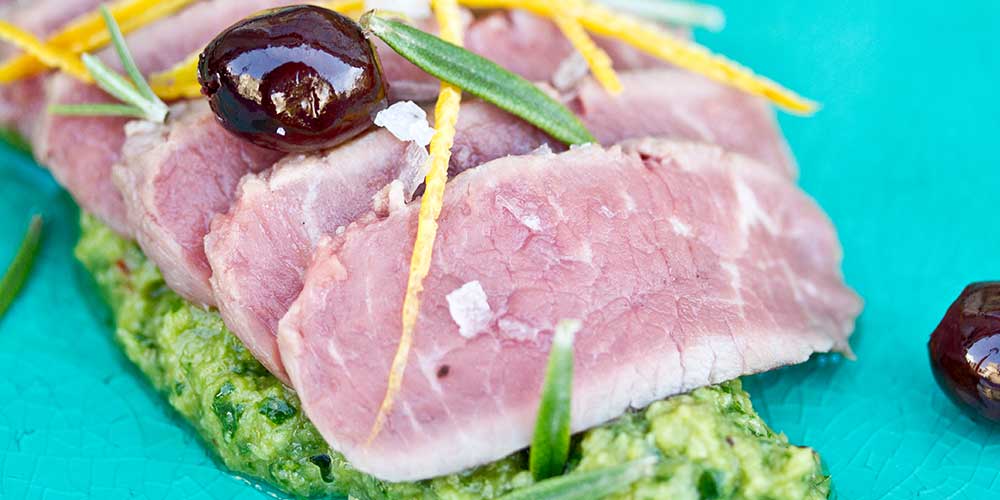 INGREDIENTS
4 tbsp Unsalted Butter

1 tbsp High Heat Oil (Grapeseed, Peanut or Canola)

Salt
Tapenade:

2 cups Green Olives (we used Castelvetrano)

Zest of 1 Orange

1/4 cup Orange Juice

½ tsp Red Chile Flakes

1 tbsp Capers, drained & rinsed

1 tsp Raisins

1/3 cup Extra Virgin Olive Oil

1 tbsp Red Wine Vinegar

1/8 tsp Anchovy Paste

2 tsp Fresh Rosemary Leaves

1 cup Fresh Flat Leaf Parsley

¼ tsp Sea Salt
DIRECTIONS
1
Trim any fat off the lamb striploin.
2
Preheat your sous vide machine to 115°F.
3
Season the lamb with salt and vacuum pack it in bags with the unsalted butter.
4
Put the lamb bags in the water bath, wait for it to return to 115°F, then cook for one hour.
(We haven't tested, but it could probably stay in the bath for up to two hours total)
This will produce lamb that is medium rare. If you prefer your lamb cooked further, increase the water bath temperature – see our
sous vide

steaks temperature chart
for suggestions.
5
Put all the tapenade ingredients in a blender. Blend, stopping and stirring as necessary, until combined and chopped to the right consistency.
6
Once the lamb has cooked, heat a cast iron skillet or frying pan with the high heat oil over medium-high heat.
7
Briefly sear the lamb on all sides, just long enough to develop a nice brown crust.
8
Spread some tapenade on plates or platters. Slice the loins against the grain and layer the slices above the tapenade.
9
Garnish with the orange zest, rosemary leaves, black olives and flake salt. Serve.