Smoky Black Bean Tostadas
Makes 8 Tostadas
(2-4 Servings)
DRINK PAIRING
Pacifico Beer
These vegetarian tostadas are intensely satisfying – the bean & chile topping is smoky, spicy, earthy & fruity, perfectly balanced with creamy avocado & cheese.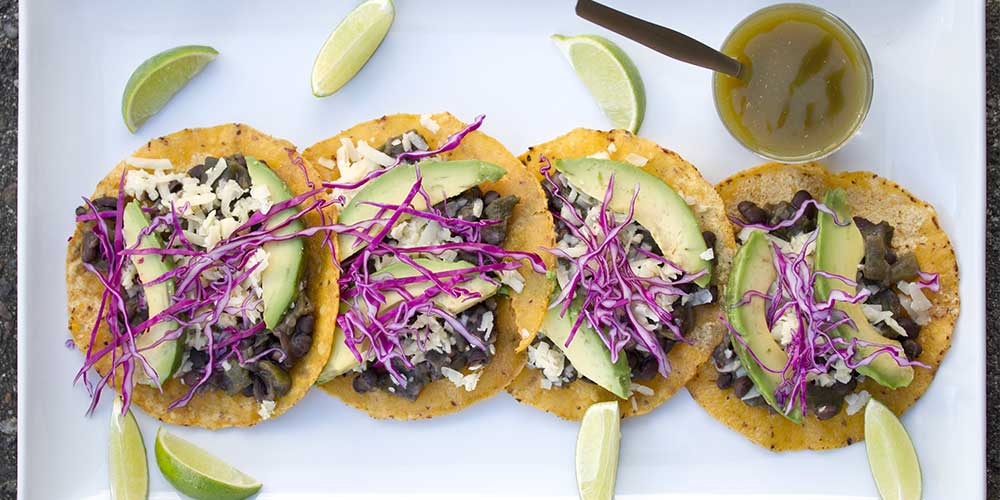 INGREDIENTS
1 15oz can Black Beans, drained

1 Avocado

Juice of ½ Lime

4 Fresh Poblano Chiles

1 cup Grated Cheddar Cheese

½ Yellow Onion, small diced

1 Lime, cut into wedges

2 tbsp Vegetable Oil

8 corn tortillas

2 tsp liquid smoke

1 cup Finely Shredded Red Cabbage

Green Jalapeno Pepper Sauce

Salt & Pepper
DIRECTIONS
2
Put the vegetable oil in a large pot. Add the diced onion and a pinch of salt.
3
Saute the onion over medium-high heat until translucent.
4
Add the liquid smoke and the poblanos, then continue to sauté for another five minutes.
5
Add the black beans and ¼ cup of water, then reduce the heat to medium low. Simmer for ten minutes.
6
Add the lime juice and salt to taste.
7
Put 1 tbsp of high heat oil in the bottom of a separate large pan or cast iron skillet over medium-high heat. Fry the tortillas until they develop brown spots, then drain on paper towels. Add additional oil as needed.
If the draining tortillas haven't crisped after sitting for five minutes, return them to the pan and fry them a little longer.
8
Thinly slice the avocado.
9
Scoop some of the bean mixture onto each tortilla.
10
Top with the shredded cheese, red cabbage, sliced avocado and (if desired) cilantro.
11
Serve with lime wedges and the green jalapeno pepper sauce on the side.