Smoked Trout Salad with Pine Nut Paprika Vinaigrette
WINE PAIRING
Verdelho or Sancerre
Smoky, tangy, sweet and herby, this salad offers a range of exotic textures and flavors with little work. It's a perfect choice for a picnic, summer party or potluck.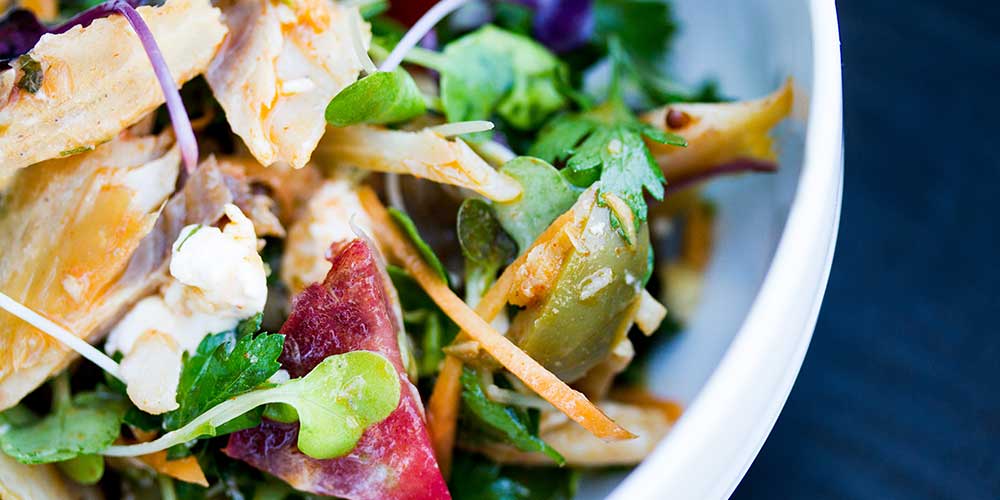 INGREDIENTS
4 oz Smoked Trout, torn into bite-sized pieces

¼ cup Fresh Parsley Leaves

2 tbsp Green Olives, pitted & slivered

1 tbsp Carrot, julienned

¼ cup Microgreens of choice (we used a blend)

2 oz Goat Cheese (Chevre), torn into small pieces

¼ Cup Chopped Tomato
Pine Nut Paprika Vinaigrette:

Juice of ¼ Lemon

Pinch of Fennel Fronds, minced

1 tsp Sea Salt

1 tbsp Pinecone Bud Syrup

2 tbsp Pine Nuts, chopped

1 pinch Spanish Paprika

2 tbsp + 2 tsp Fine Extra Virgin Olive Oil
DIRECTIONS
2
Combine the trout, parsley, green olives, carrot, microgreens, goat cheese and tomato in a large bowl.
3
Toss with about ¼ cup of the vinaigrette to coat.