Smoked Sardines with 2 Spanish Peppers in Purple Potato Cubes
Makes 4 Tapas Servings
WINE PAIRING
Cava
This elegant, unusual tapa combines robust smoked sardines with a blend of grassy & fruity Spanish peppers with vinegar & lemon for bite.  The purple potato cubes give it a very modernist, otherworldly appearance.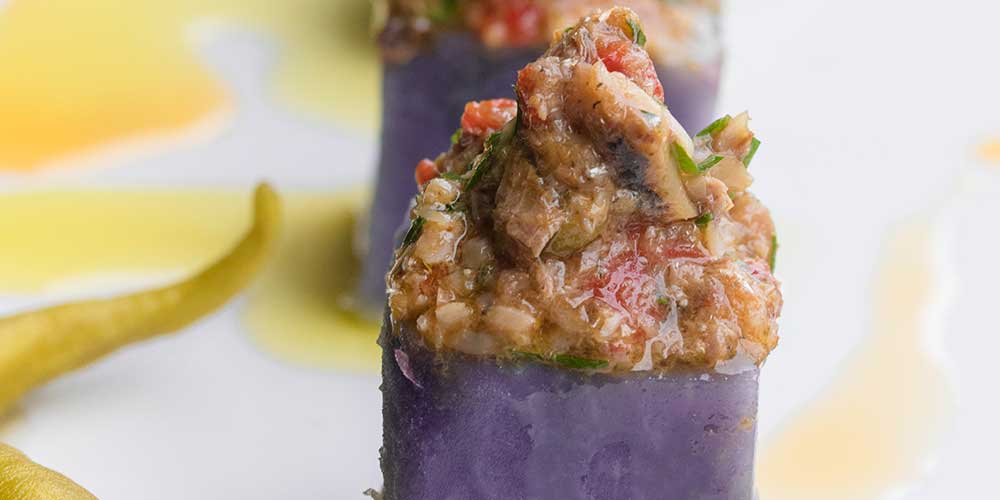 INGREDIENTS
16 small Purple Potatoes (we recommend Purple Majesty or All Blue)

1 tsp Salt, plus extra

2 Organic Piquillo Peppers, minced

4 Pickled Piparra Peppers, sliced into very thin rounds (seeds & all)

1 tin Jose Gourmet Smoked Small Sardines, oil reserved

1 ½ tsp Sherry Vinegar

1 tsp Lemon Juice

1 tbsp Minced Flat Leaf Parsley

First Day Arbequina Extra Virgin Olive Oil
Optional:

Additional Piparras to garnish plates
DIRECTIONS
1
Square off the potatoes into 1" cubes (you may be able to get two from each potato, depending on size).
Don't throw out the scraps! Use them in other recipes, like roughly chopped for use in potato hash, simmered & mixed with cream for purple mashed potatoes, etc.
2
Option 1 (depicted): Use a paring knife or very small melon baller to cut a small cavity into the top of each cube, for stuffing.
Option 2: Slice each cube in half for more of a "potato crostini" look.
3
Add a tsp of salt to a small sauce pot filled with water. Add the potatoes. Bring the water to a boil, then reduce the heat to a gentle simmer. Cook until just
4
Very gently drain off the water/strain out the potatoes.
5
Combine in a small bowl the piquillos, piparras, 1 tbsp of the sardine oil & the sardines. Use a fork to mash everything together. Add the sherry vinegar, lemon juice, parsley & a pinch of salt. Mix to combine.
6
Salt the potatoes. Top them (filling the cavities if you cut them) with some of the sardine salad mixture.
You'll have some of the filling/salad left over. Try spreading it on toast/crostini.
7
Plate the potatoes & finish them with drizzles of the extra virgin olive oil and chile oil. Garnish the plates with additional whole piparras if desired.