Skirt Steak & Eggs w/ Sweet Potato Hash
Seared skirt steak, sunny-side up fried eggs and a sweet-spicy-herby sweet potato hash. A breakfast fit for royalty.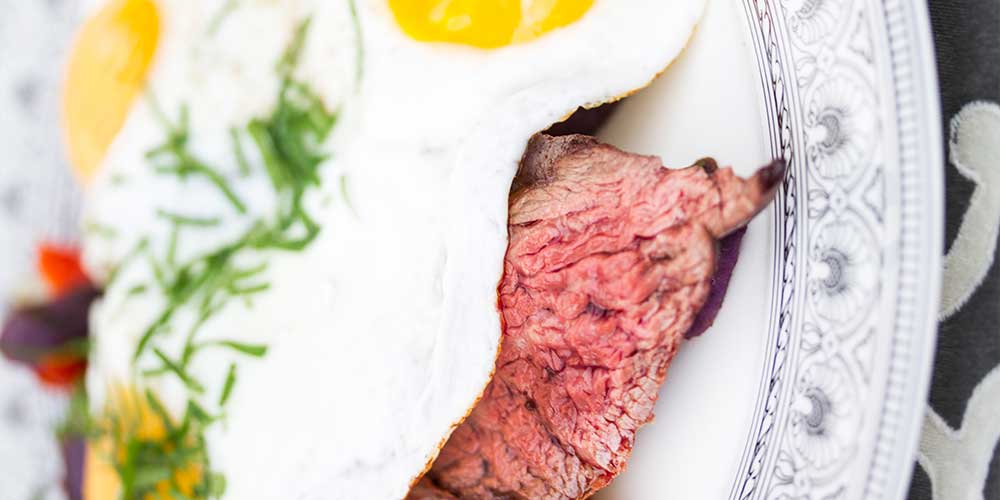 INGREDIENTS
Sweet Potato Hash:

2 Okinawan Sweet Potatoes

1 Satsuma Sweet Potato

½ Onion, chopped

2 tsp Salt

1 tsp chopped Fresh Rosemary

5 Spicy Peppadew Peppers, drained & minced

1 tbsp Basil, cut chiffonade
DIRECTIONS
1
Preheat your oven to 350 degrees.
2
Peel & cube the sweet potatoes.
3
Add them to a pot of well-salted water & bring it just to a boil.
4
Drain the water off of the sweet potatoes.
5
Clean the outer membrane from the skirt steak.
6
Cut the skirt steak into 3oz portions. Season them with salt & pepper, than pan sear to your desired doneness (we recommend cooking no further than Medium).
7
Cook the onion in oil in an oven-safe pan over high heat with a tsp of salt.
8
When the onion becomes semi-translucent, add the sweet potato cubes, the rosemary, and the second teaspoon of salt.
9
After five minutes, add the peppadews and move the pan to the oven to roast until the sweet potatoes are tender.
10
Fry the eggs in oil in a non-stick pan, sunny side up.
11
Once the hash comes out of the oven, sprinkle in the basil.
12
Slice the skirt steak against the grain.
13
Serve the hash with the steak and fried eggs (3 per plate).