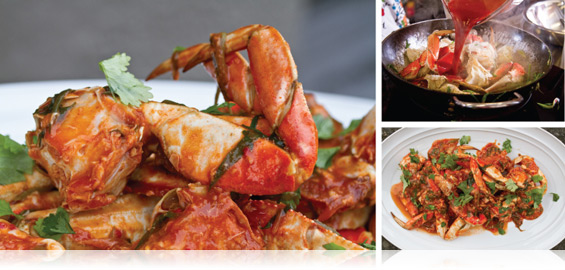 Singapore-Style Chile Crab
We hope you brought your bib (or at least a lot of napkins) because this dish is messy…but oh so worth it. This version of Singapore-style chile crab is sweet, savory & herby, with a light warmth from the chile sauce on the finish. It's not actually very spicy, so anyone can enjoy it.
Give someone a taste, and they'll be up to their elbows in the delicious sauce, cracking crab shell with gusto to pick out the delicious meat.
Drink Pairings: Riesling or Gewürztraminer
Ingredients: Makes Four Appetizer Servings or 1 Dinner Serving
1 Whole Cooked Dungeness Crab
1/3 cup Ketchup
3 tbsp Chile Sauce/Paste (we used sriracha sauce)
2 tbsp Oyster Sauce
1 tbsp Tamarind Paste, deseeded (could substitute 1 tbsp Sugar & Juice of 1 Lemon)
1 bunch Scallions, thinly sliced on the bias
1″ piece of Ginger, peeled & grated
4 cloves of Garlic, minced
1 Red Fresno Chile, minced
1 Egg
1/2 bunch Fresh Cilantro, stems discarded
Lemon
3 tbsp Peanut Oil
Directions:
1. Quarter & clean the crab (how to clean Dungeness crabs), but leave the shell on.
2. Combine the ketchup, chile sauce, oyster sauce, tamarind paste (or substitute) and a quarter cup of water in a bowl.
3. Heat a wok over medium-high heat & add the peanut oil. Heat until a test piece of scallion touched to the oil sizzles.
4. Add to the oil the chiles, scallions & garlic. Saute 30 seconds, until fragrant. Add the crab & toss.
5. Stir fry the crab for one minute, then add the sauce. Stir to coat.
6. Simmer for two minutes, then crack in the egg. Stir the egg into the sauce rapidly, so it thickens and forms ribbons rather than scrambling on the surface.
7. Finish with fresh cilantro & a squeeze of lemon. Use tongs to serve the crab pieces on a platter, covered with the sauce from the pan.
___________
Browse More:
Crab Recipes