Sweet, savory & earthy, but still light and filled with bright colors, this salad would be delicious with teriyaki chicken or fish.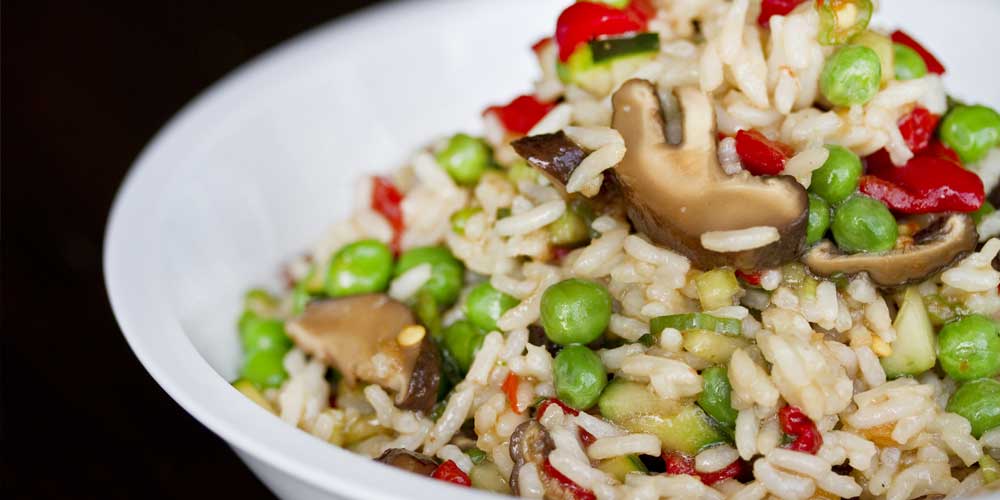 INGREDIENTS
3 cups cooked Basmati Rice

½ cup finely chopped Scallions

1 cup Green Peas (frozen or fresh)

¾ cup diced Roasted Red Bell Pepper

¾ cup seeded & diced Cucumber

3 tbsp Toasted Sesame Oil

2 tbsp Soy Sauce

4 tsp Rice Wine Vinegar

1 ½ tsp Honey

¼ tsp Asian-style Chile Garlic Sauce

1 Garlic Clove, finely diced

1 tsp Grated Fresh Ginger

1 tsp Salt
DIRECTIONS
1
Reconstitute the dried shitakes by adding 1 cup of water to the mushrooms in a pot and gently simmering for 1-2 minutes, stirring occasionally. Remove from the heat, cover the pan and let them sit for 15 minutes. Reserve the mushroom broth.
2
Slice the shitakes and add to the cooked rice along with scallions, peas, red pepper and cucumber.
3
In a separate bowl, combine the reserved shitake broth, sesame oil, soy sauce, vinegar, honey, garlic, ginger, salt and chile sauce. Mix well to dissolve the honey. Add to rice and vegetables and mix well.