This noodle soup was inspired by the ever popular Vietnamese classic: Pho. In fact, it was originally intended to be a pho recipe, but ended up being more mild than we'd hoped. Still, it's quite tasty and soothing. The flavor of the herb-spice-beef bone broth is quite complex. Add to that fresh crisp herby garnishes, heat from the jalapenos (if desired) and sweet, tender shellfish, and you've got a tasty treat.
Fire roasting the ginger and yellow onions is a neat trick which brought out some previously hidden (and very intriguing) flavors that you've just got to try playing with at home.
Maybe we'll take another crack at the elusive secrets of true pho broth sometime soon…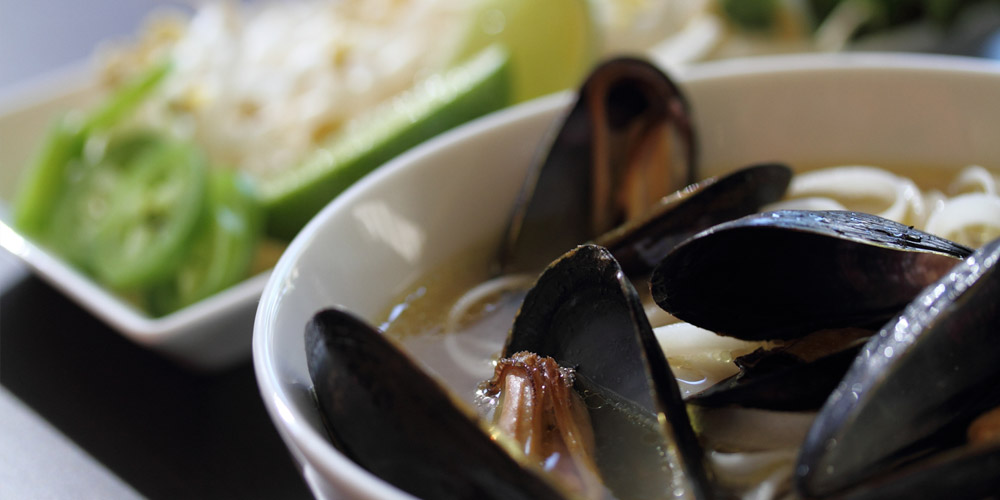 INGREDIENTS
2 Yellow Onions

2" chunk Fresh Ginger

6 Whole Cloves

4 tbsp Fish Sauce

14oz Rice Noodles

2 stalks Fresh Lemongrass

1 4" Cinnamon Stick (Cassia)

3 Kaffir Lime Leaves (3 sets of paired leaves)
5 pieces of Whole Star Anise

6lb Beef Soup Bones, preferably with some meat attached (we used knuckle bones).
DIRECTIONS
1
Cover the beef bones with cold water in a Dutch oven or large pot. Bring the water to a boil. Boil for three minutes, then pour off the water (this cleans the bones). Reserve the bones and scrub out your pot.
2
Char unpeeled ginger and unpeeled onions on an open gas burner. Hold them in a pair of tongs and rotate them over the burner until they're blackened on all sides.
3
Return the beef bones to the cleaned pot and cover with more cold water. Bring to a simmer over high heat.
4
Once the onions have cooled enough to touch, peel them under cold running water. Cut the onions in half & thickly slice the ginger. Add the fish sauce, cinnamon, star anise, onions, cloves, kaffir lime leaves and ginger to the pot.
5
Peel the lemongrass down to the tender inner stalks, and smack it with the flat or dull side of your knife to bruise (this releases more of its flavorful oils). Add the stalks to the stock pot.
6
Simmer the stock for about three hours. Strain out the solids & discard.
7
Build your garnish plate.
8
Return the stock to the stove and bring it to a strong simmer. Add the rice noodles and cook until tender.
9
Use tongs to remove & reserve the noodles. Add the mussels or clams to the pot and simmer until they open.
10
Put the noodles in your serving bowls, top with the shellfish, then pour in the broth. Serve with the garnish plate.