Makes 6 Servings
WINE PAIRING
Smaragd Gruner Veltliner from Wachau, Austria
Roe-on scallops aren't widely available in the US, but are considered a delicacy by many who grew up in scallop harvesting areas. The bright orange roe is firmer and lighter than the rest of the scallop with a more pronounced seafood flavor. The roe cooks at the same rate as the rest of the scallop, so you can leave it attached and sear them together, as we have here. We've plated them atop a bacony potato hash, sauced with a simple cream pan sauce.
If you don't have roe-on scallops handy, you can substitute sea scallops.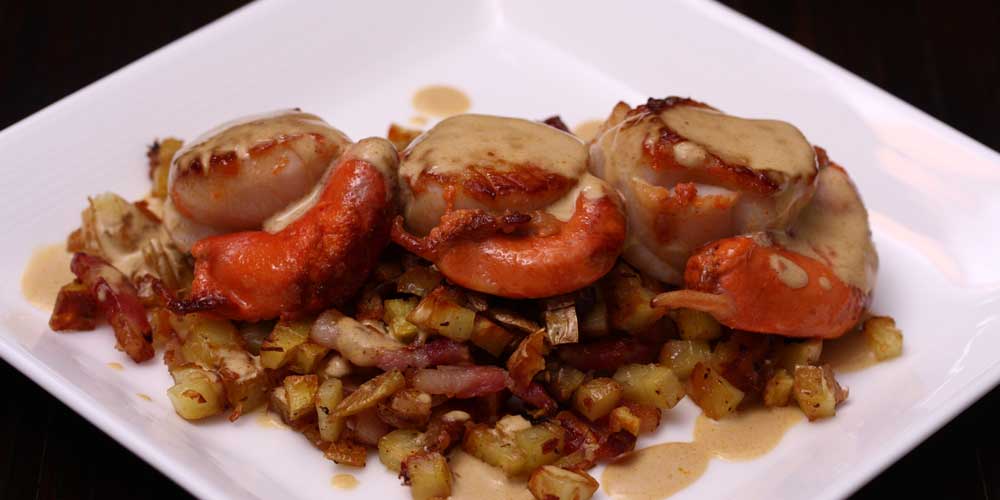 INGREDIENTS
12 Roe-on Scallops

1 cup Vegetable Stock

1/2 cup Heavy Cream

Olive Oil

Salt & pepper to taste
DIRECTIONS
Some New Task of the Recipe:
1
Get a pan with olive oil in it hot on medium high heat.
2
Carefully lay in the scallops and sear them for two minutes.
3
Flip the scallops and sear the other side for 30 seconds.
4
Remove the scallops from the pan. Deglaze the pan with vegetable stock and add the bay leaves. Bring the stock to a simmer.
5
Reduce the vegetable stock by half, then add the cream.
6
Continue to simmer to reduce the cream to napper (it coats the back of a spoon without running off). Taste for flavor and add salt & pepper if necessary.
8
Plate the scallops atop the hash, sauced with the cream pan sauce.