Makes 6 Small Appetizer Servings
Delicate, creamy raw scallop balanced with briny caviar & the bite of pickled onions held in check with a tarragon sour cream.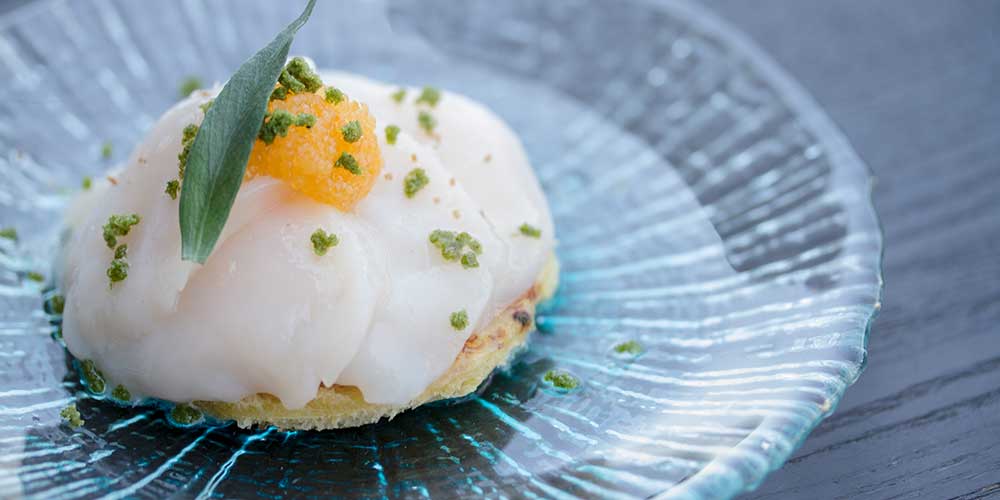 INGREDIENTS
Marinade:

1 tbsp Cucumber Vinegar

1 tsp Sugar

1 tsp Kosher Salt

1 tsp Cold Water
Tarragon Sour Cream:

¼ cup Sour Cream

1 tsp chopped Tarragon 1 pinch of salt
4 tsp Whitefish Caviar

Additional Cucumber Vinegar

Spruce Tip Salt

Basil Crystals

Brioche Loaf

Unsalted Butter
DIRECTIONS
1
Whisk together the marinade ingredients in a small bowl until dissolved.
2
Marinate the scallops in the marinade for four hours in the fridge. Turn them every hour.
3
Slice the brioche into four thin slices and use a pastry ring cutter to cut them into rounds. Toast the rounds in a pan with melted butter until they're golden brown on both sides.
4
In a small bowl combine the sour cream, pinch of salt and tarragon.
5
Slice the scallops very thinly.
6
Put a dollop of the tarragon sour cream on each plate. Top it with a brioche round, then more of the sour cream.
7
Top the sour cream some pickled onions, then the slices of one. Sprinkle the scallop with a little spruce tip salt, a teaspoon of whitefish caviar, a few drops of cucumber vinegar and a few basil crystals.