Scallop Crudo with Yacon Root
The sweet, faintly Asian pear-esque flavor of yacon root pairs beautifully with the natural sweetness scallops and floral notes in yuzu juice.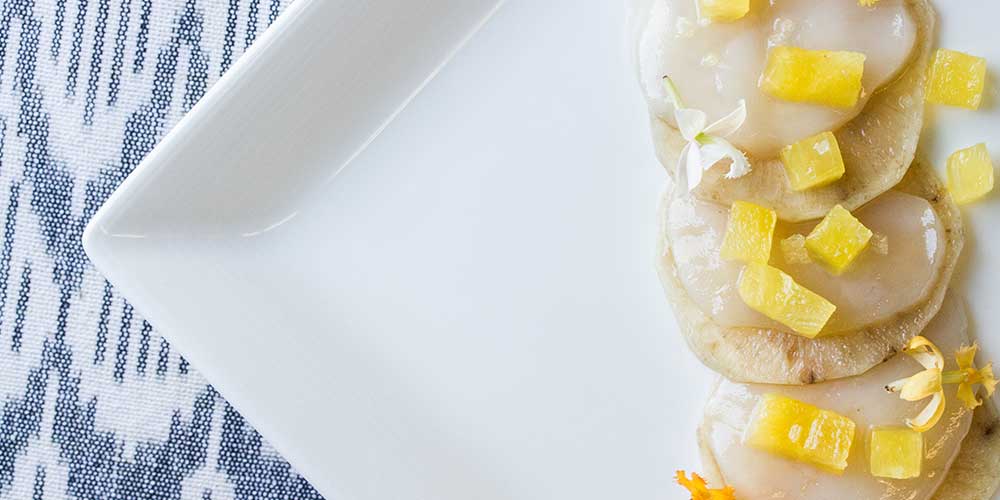 INGREDIENTS
1/2 cup Pineapple, finely diced

1/2 pound Sea Scallops

2 tbsp Tamari Soy Sauce

2 tbsp Yuzu Juice, divided

2 tbsp Mirin or Cooking Sake

1 tsp Light Sesame Oil

Juice of half a Lemon

Finishing Salt

Edible Flowers to garnish, optional
DIRECTIONS
1
Finely dice the pineapple.
2
Optional: If you have a chamber vacuum, you can create compressed pineapple just by sealing the cubes of pineapple under pressure in the vacuum sealer. Leave them pressurized in the sous vide bag for 1 hour. If you don't, the pineapple will still be a lovely garnish without this fancy business.
3
Place the scallops in a resealable plastic bag and freeze for 20 minutes to allow for easier slicing.
4
Peel the yacon root, and immediately slice it into 1/8 inch coins with a sharp knife or a mandolin. Toss or brush the sliced yacon right away with 1 tbsp of the yuzu juice to keep it from oxidizing.
5
Mix the remaining 1 tbsp of yuzu juice with the tamari, mirin, and sesame oil in a shallow container.
6
Using a very sharp and thin-bladed knife, cut the scallops horizontally into 3-4 coins each. Place them in the marinade for two minutes. Flip them over and leave them for 2 more minutes.
7
Place the coins of yacon root on the plate, topping with the scallop coins. Squeeze a bit of fresh lemon juice over in a quick line. Garnish with the cubed pineapple, a scattering of finishing salt, and edible flowers, if desired.