Mixed Sausages & Flavored Mustards
This dish is a great way to celebrate the variety available in the world of specialty sausages. Pick out several flavors, then serve them with a variety of flavored mustards & porter-glazed apples. Everyone can play with pairing the different sausages with the different condiments and decide which combination is the most delicious.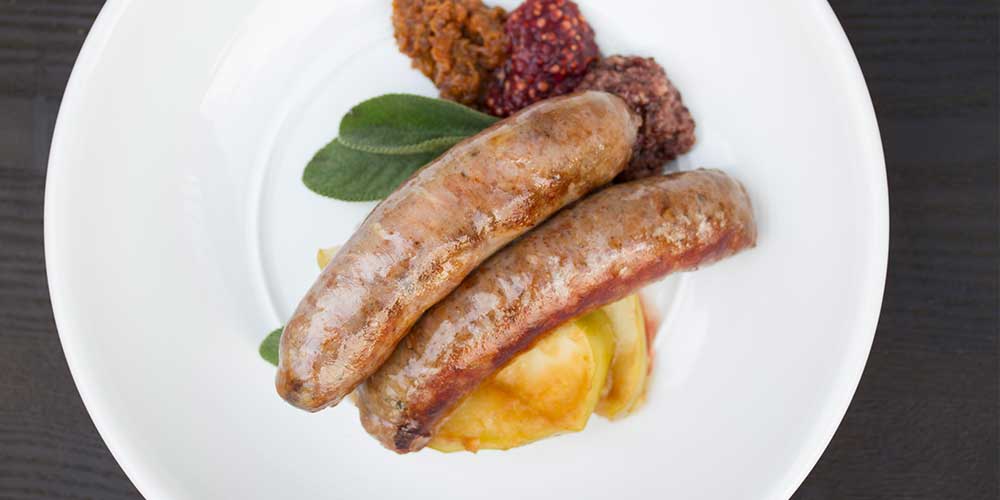 INGREDIENTS
Quince Mustard:

1 Fresh Quince, Peeled & Cubed

4 tbsp Purple Mustard

½ tsp Ground Cinnamon

1/8 tsp Grated Nutmeg
Apricot Mustard:

2 tbsp Dijon Mustard

1 cup Dried Apricots

1 cup White Wine

4 Saffron Threads
Fig Mustard:

1 basket Fresh Black Figs, de-stemmed and chopped

1 cup Red Wine

2 tbsp Whole Grain Mustard
Porter Apples:

2 Granny Smith Apples, cored and sliced (but not peeled)

12oz Porter Beer

¼ tsp Cinnamon

3 Fresh Thyme Sprigs

1 tsp salt

Oil
Garnish:

Fresh Sage Leaves
Optional: Starch and/or Vegetable Sides of Your Choice
DIRECTIONS
1
Simmer the quince in water until tender. Drain off the water.
2
Puree the quince in a food processor.
3
Combine 2 tbsp of the quince puree with the purple mustard, nutmeg and cinnamon.
Make the Apricot Mustard:
4
Simmer the dried apricots in the white wine with the saffron until they're rehydrated and the pan is almost dry.
5
Chop the apricot mixture into a paste in a food processor.
6
Mix 2 tbsp of the apricot paste with the Dijon mustard.
7
Cut the stems off the figs and quarter them. Simmer the figs in the red wine until they are very soft and the pan is almost dry.
8
Puree the fig-wine mixture into a paste in a food processor.
9
Mix 2tbsp of the fig puree with the whole grain mustard.
10
Preheat your oven to 350.
11
In a pot, simmer the porter with the thyme, cinnamon & tsp of salt until it reduces enough to coat the back of a spoon.
12
Saute the apples in oil in an oven-safe pan until they start to brown around the edges, then move them to the oven to roast until soft.
13
Drizzle the porter sauce over the apples.
14
Sear the sausages in a small amount of oil in an oven safe pan, just until they develop a nice crust.
15
Move them to the oven to roast until cooked through (about 10 minutes).
16
Serve the sausages together with the mustards and roasted porter apples.