Marko's Sausage & Kraut Comfort Food Casserole
So good, so easy, so hearty. This casserole is perfect for a drizzly (or snowy) weeknight.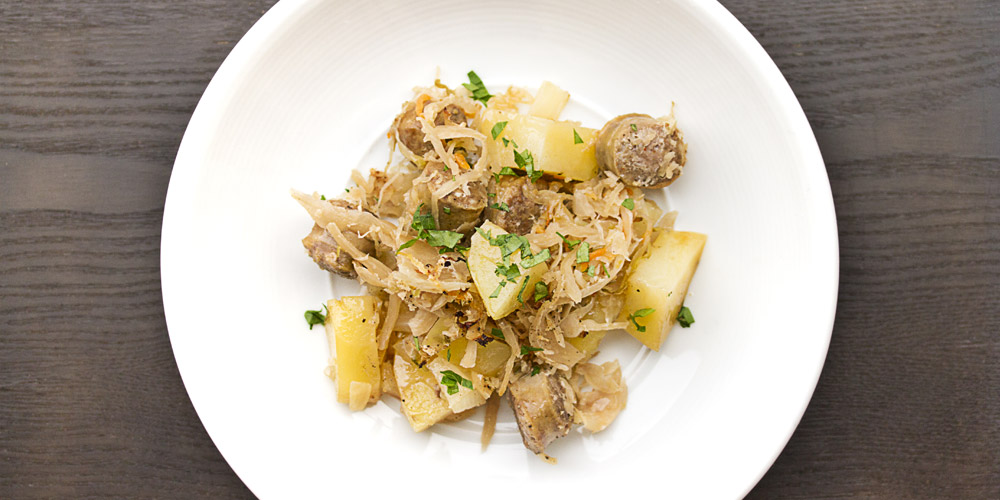 INGREDIENTS
1-2 pats of Butter, or a quick glug of Oil

1 lb. Yukon Gold Potatoes

1 Medium Yellow Onion

1lb. Raw Sausages (we used Mangalitsa pork Beer Bratwurst sausage)

1 Jar (16 oz) Horseradish Leek Kraut (or another Midori Farm Kraut flavor)

Salt & Pepper
DIRECTIONS
1
Preheat your oven to 350° F.
2
Butter or lightly oil the bottom and sides of a 9" x 13" oven-proof baking pan or casserole dish.
3
Peel and chop the potatoes, aiming for fairly uniform bite-sized pieces. Quarter and then slice the onion into short strips around ½" wide. Toss the potatoes and onions together in the baking dish, and season with salt and pepper.
4
Slice the bratwurst into inch-thick coins, and scatter them in the baking dish on top of the potato-and-onion layer.
5
Spoon kraut evenly over the sausage layer.
6
Cover the baking dish with foil and pop it into the oven. After around 40 minutes, remove the foil and cook it uncovered for another 20-25 minutes.
7
Peek in to assess the situation – is it bubbling happily away, and have the potatoes and onions browned nicely? As soon as that happens, pull it from the oven and dig in.