Spiced Sardines with Fried Onions & Mojama
Mojama brings briny, umami-packed flavor to this dish in the form of a fluffy pink powder.  The spiced sardines are savory, but not spicy, while the onions are delicately fried to a crispy texture.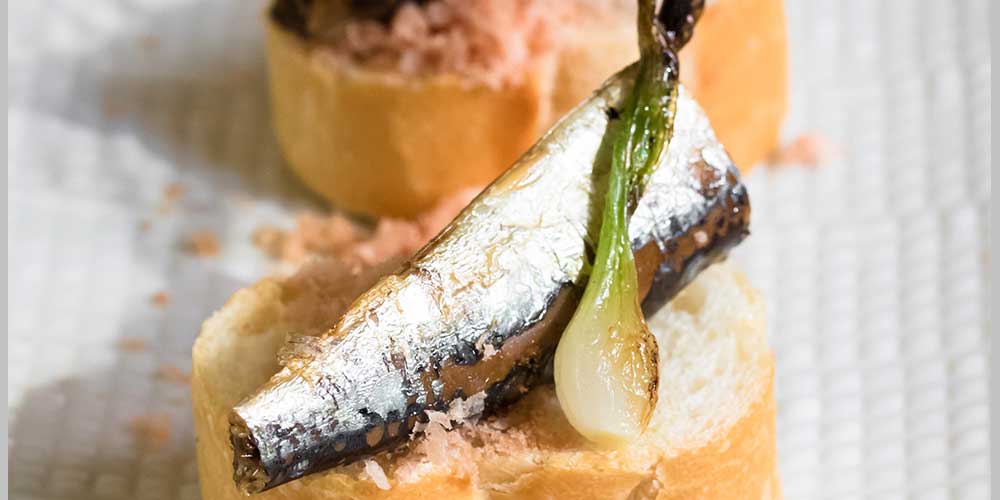 INGREDIENTS
Oil

7 Spiced Sardines (approx. 1 tin), drained & dried

Seven Thin Baguette Slices, toasted

Lemon
DIRECTIONS
1
Chill about 2" of the mojama in the freezer for 30 minutes prior to serving the dish.
2
Trim the roots off the bottom of the tiny onions.
3
Stand the onions green-end up in a steamer basket in a deep pot over some water.
4
Bring the water to a boil, cover the pot, and briefly steam the onions for about 20 seconds.
5
Move the onions to a hot oiled skillet and gently fry them until well browned. Remove them to a paper towel to drain.
6
Use a microplane grater to very finely grate the firm mojama to an almost powder-like consistency.
7
Put the bread slices on your serving plate, then sprinkle the plate with the mojama powder. Put a sardine on each bread slice, then two onions.
8
Finish each portion with a light squeeze of lemon juice. Serve.