Makes 4 Appetizer Servings or 1 Entree
WINE PAIRING
Riesling or Gewürztraminer
Immensely satisfying – sweet, tender & delicious Dungeness crab briefly deep fried, then stir fried with ginger, garlic, scallions & other goodness. Just set the table with a crab cracker and a bib and go to work!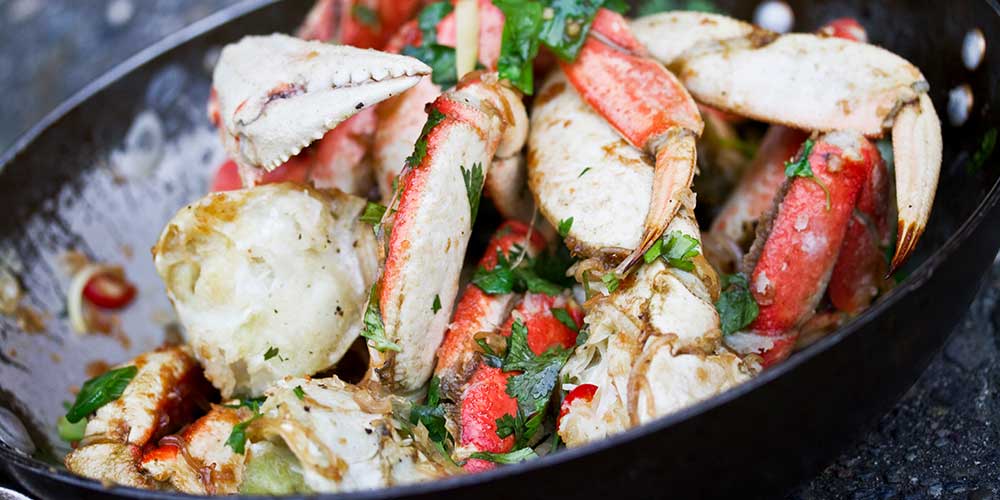 INGREDIENTS
2 Shallots, thinly sliced

4 cloves Garlic, peeled

1 bunch Scallions, sliced

2 tsp Sugar

1″ Ginger, peeled & cut into matchsticks

1 tbsp Tamari Soy Sauce

1/2 tsp Freshly Cracked Black Pepper

1/2 bunch Fresh Cilantro, stems discarded
1/2 tsp minced Red Fresno Chile

1 gallon + 2 tbsp Peanut Oil

Cornstarch to coat
DIRECTIONS
2
Heat the gallon of peanut oil in a stockpot to around 400 degrees.
3
Toss the crab pieces in cornstarch to coat.
4
Heat the remaining 2 tbsp of peanut oil in a large frying pan or wok.
5
Fry
the crab pieces in the stockpot of oil until golden brown.
6
While the crab is frying in the pot,
stir fry
the ginger, scallions, garlic, red fresno pepper, and shallots in the wok. Add the tamari & sugar.
7
Once the crab pieces have formed a crust (from the cornstarch), move them to the wok. Add the cilantro & black pepper. Toss & serve.