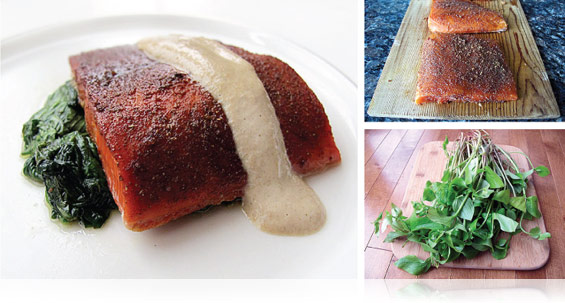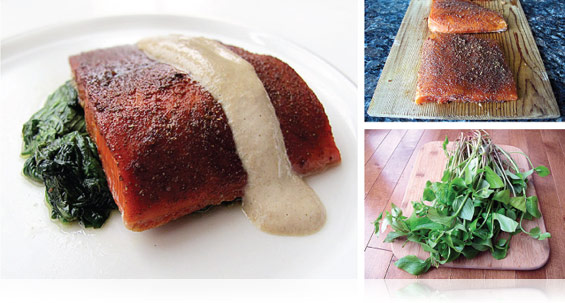 Slow Roasted Cedar Planked Sockeye Salmon with Morel Mushroom Brandy Cream, Sauteed Miner's Lettuce
Morel mushrooms are very versatile and can be prepared in many different ways. In this preparation they are transformed into a rich and creamy brandy sauce that is wonderfully flavorful, with earthy notes and a little bit of sweetness. It is a great compliment to the smoky flavors of the wild salmon which is slow roasted on a cedar plank. Planking is a traditional Native American method of preparing fish, meat, poultry, and vegetables.
Also, on a plate is Miner's lettuce, a green leaf vegetable that has also been part of the Native American diet in the Western parts of America. It is similar to baby spinach in taste.
Ingredients:     (2 servings)
Salmon
2 Sockeye Salmon fillets, skinless
2 tablespoons brown sugar
1 teaspoon smoked paprika
1 teaspoon ground sage
1/2 teaspoon salt
1 cedar plank
Morel Mushroom Brandy Cream
1 tablespoon butter
5-6 medium to large fresh morel mushrooms, cleaned and sliced (about 1 cup)
1 medium shallot, chopped
1/4 cup Brandy
1/2 cup heavy cream
Salt, pepper to taste
Miner's Lettuce
1 pound Miner's lettuce    (could substitute baby spinach)
1/2 teaspoon crushed red chile flakes
1 teaspoon extra-virgin olive oil
Coarse sea salt, to taste
Directions:
Salmon
1. Pre-heat oven to 350 degrees. Lightly oil a cedar plank and place in an oven for 15 minutes.
2. Meanwhile, in a small bowl, combine brown sugar, smoked paprika, sage, and salt. Rub all over the salmon fillets. Let them sit for about 10-15 minutes. Then, place on the cedar plank.
3. Lower the oven temperature to 250 degrees. Slow roast salmon for about 15-20 minutes, depending on the thickness of the fillets.
Morel Mushroom Brandy Cream
1. Melt butter in a skillet.
2. Add morel mushrooms and shallots and sauté until the mushrooms are cooked through, about 4-5 minutes.
3. Add Brandy and cook until it reduces by at least 1/2.
4. Add cream, season with salt and pepper, and simmer for a few minutes.
5. Place in a blender and mix until the sauce is smooth. Strain if necessary.
Miner's Lettuce
1. Clean Miner's lettuce and separate the leaves from the stems, use the leaves only.
2. Add the Miner's lettuce leaves to a large skillet. Sprinkle with red chile flakes, extra-virgin olive oil, and salt to taste.
3. Sauté for a minute or two, mixing, until the leaves start to wilt.
To Assemble:
Serve salmon on top of Miner's lettuce and spoon the morel mushroom brandy cream over.
Recipe Development & Photography by Natasha Price, 5 Star Foodie
___________
Browse More:
Morel Mushroom Recipes
Salmon Recipes
Fish Fillet Recipes
Miner's Lettuce Recipes