Red Romesco Quail Breasts with Orange & Almond Gremolata
Makes 6 Light Appetizer Servings
Savory, tangy & creamy with a bit of a kick, romesco sauce is a delightful accompaniment to plump, moist fried quail breasts.  An orange, shallot, almond & parsley gremolata adds further pizazz to the dish's colors, textures & flavors.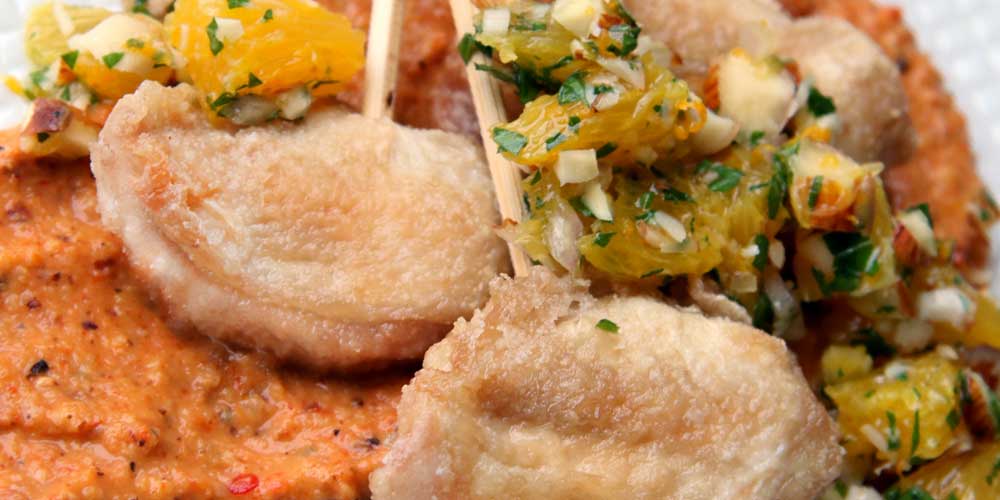 INGREDIENTS
2 tbsp Cornstarch

Neutral-Flavored High Heat Oil for frying (grapeseed, canola, etc)

Salt and Pepper
Red Romesco Sauce:

2 medium Tomatoes

1 large Red Bell Pepper

2-inch slice of Baguette, crust removed

1/2 cup Almonds

3 cloves Garlic

2 tbsp Sherry Vinegar

1 tsp Sweet Smoked Paprika (Pimenton Dulce)

1 tsp Aleppo Pepper or medium-heat Chile Powder

1 tsp Salt

1/4 cup Extra Virgin Olive Oil
Orange Gremolata:

1 tsp Orange Zest

1 Orange

2 tbsp minced Shallot

¼ cup Almonds

2 tbsp minced Flat Leaf Parsley

1 tsp Extra Virgin Olive Oil
20 flat or 40 round Small Bamboo Skewers
DIRECTIONS
1
Preheat your broiler and cover a baking sheet with foil.
2
Broil the tomatoes and pepper until charred on one side, around 3 minutes. Turn them over carefully with tongs, and broil on the other side until charred. Remove to cool.
3
Reduce the heat to 375°F and place the bread, almonds, and garlic on the baking sheet and into the oven. Pull the bread out once it's toasted brown, pull the almonds out once they're aromatic, along with the garlic.
4
Peel the pepper and remove its stem & seeds.
5
Put the whole tomatoes, pepper, bread, almonds, garlic, paprika, and Aleppo pepper or chile powder in a food processor or blender.
6
Blend them together, and scrape down sides. Continue to blend while drizzling in the olive oil, until a sauce forms.
Make the Orange Gremolata:
1
Zest one quarter of the orange. Peel off the rind and small dice the orange segments inside, discarding any seeds.
2
Mince the shallot and rough chop the almonds.
3
Combine the orange, shallot, almonds, parsley, and olive oil. Mix gently.
1
In a small saucepan, heat your frying oil to 350°F.
2
Toss each quail breast in cornstarch, shake off any excess, and thread it onto 1 (flat) or 2 (round) skewers.
3
When all your skewers are made, fry them in batches until golden brown, about 2 minutes each, and drain on paper towels.
4
Spread a schmear of Romesco on each plate. Top with 1-2 quail breast skewers. Scatter with orange gremolata and serve immediately.