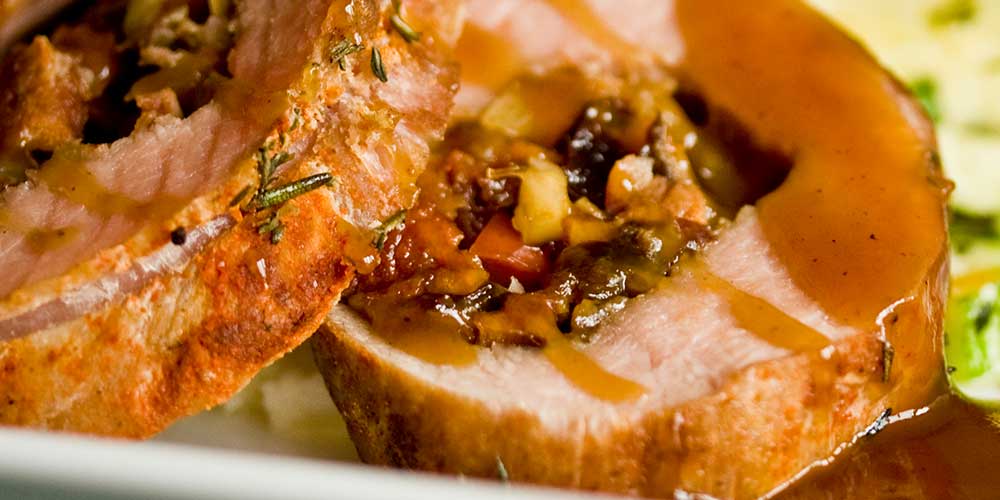 INGREDIENTS
3 ½ – 4lb Wild Boar Rib Roast, boned, chine & rib bones reserved

Salt & Fresh Ground Black Pepper to taste

1 Cup Apricot, Apple & Prune Stuffing ( to follow)

1 teaspoon Paprika

1 teaspoon Garlic Powder

1 Tbsp Oil

1 Tbsp Sweet Butter

1 Large Carrot, peeled and cut into ½" inch rounds

1 Large Onion, peeled and cut into 1"inch wedges

2-3 cloves Garlic, peeled

1 Bay Leaf

1 Tbsp Fresh Thyme, chopped ( or ½ tsp dried)
1 Tbsp Fresh Rosemary, chopped ( or ½ tsp dried)

½ Cup Dry White Wine

2 Cups Chicken Broth or stock

¼ Cup Apple Cider Vinegar

¼ Cup Sugar
For the Fruit Stuffing:

2 Shallots, chopped

2 Tbsp Soft Butter

½ Cup Diced Apples

¼ Cup Brandy

½ Cup Dried Apricots, diced

½ Cup Pitted Prunes, diced

¼ Cup Slivered Almonds, toasted ( optional)

1 Lemon, juiced

Salt & Pepper to taste
DIRECTIONS
1
In a Teflon pan , Sauté the shallots with the butter until softened, about 3 minutes, then add the apples and sauté until wilted , about 2 more minutes, tossing.
2
Add the brandy and let flame up, then add all remaining ingredients, toss well to mix, and simmer about 3 minutes until softened & combined. Cool down & set aside.
3
Preheat the oven to 400 degrees F
4
On a clean cutting board, trim the boar loin of any fat and connective tissue and set trimmings aside. Butterfly open the boar loin by cutting down one side, from top to bottom, open it up , and flatten it down, then arrange the fruit stuffing evenly down the middle of the loin, roll it back up, and secure it tightly in 5 places with butcher string.
5
Season the outside well with salt, pepper, garlic powder & paprika.
6
Heat the oil & butter in a roasting pan or Dutch oven on the stove top, over high heat, then add the roast, chine, rib bones & trimmings and sear the meat on all sides for about 8 – 9 minutes.
7
Lower the flame to moderate, Add in the carrots, onions, bay leaf & garlic, and continue to brown for another 5 minutes, then push the bones and the vegetables underneath the boar loin, and sprinkle with the herbs on top.
8
Add the wine and the stock to the pan, bring it to a boil and then transfer the casserole to the oven, and immediately turn the heat down to 375 degrees.
9
Let the loin
roast
, uncovered for about an hour, basting it and turning it over every 15 minutes, until its cooked to medium – medium well ( about 145 – 150 internal on thermometer).
10
Remove pork from the pan, cover with foil to keep warm, and set aside to rest. Strain the roasting pan juices into a saucepot, skim off excess fat, then bring to a boil and reduce a little, to about 1 cup.
11
In a separate heavy saucepan, add the vinegar and sugar and heat over a medium high heat until this caramelizes about 1-2 minutes.
12
Stir in the pan juices to this mixture, bring to a boil, and let simmer about 8 minutes to reduce & thicken. Finish with a swirl of butter and fresh chopped herbs.
13
Carve the roast into 1" inch thick rounds, and serve with hot jus.