This recipe uses the same cast-iron roasting technique our chef used for the cauliflower served as part of our pancetta-wrapped kangaroo loin recipe. The extreme level of caramelization (to the point of charring) makes the romanesco very sweet. For this version, we've taken things a step further by adding herb seasoned bread crumbs for crunch and extra flavor. Though you could use roasted garlic for this, black garlic is sweeter, with a more nuanced taste including hints of balsamic vinegar-like flavor.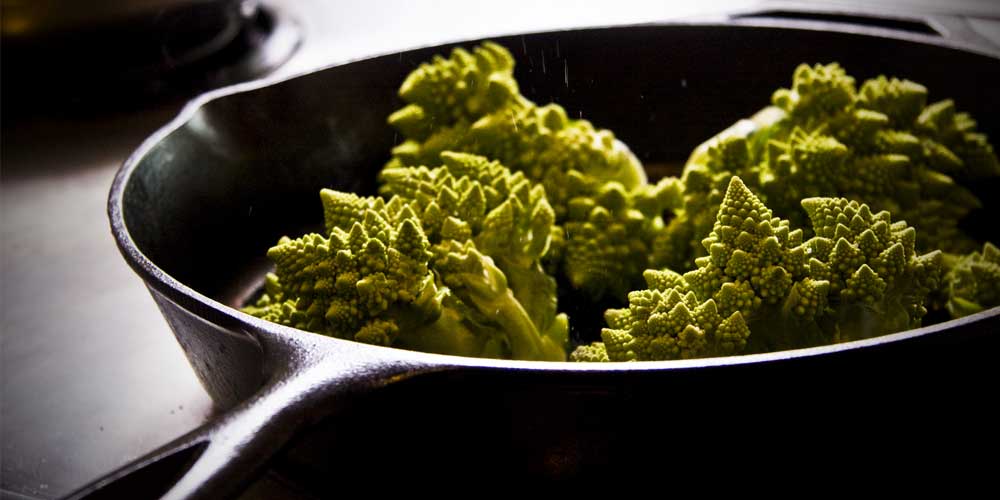 DIRECTIONS
1
Preheat your oven to 425-450.
2
Wash the parsley, pull the leaves from the stems and peel the black garlic. Combine the bread crumbs, black garlic, and parsley in a food processor. Blend until all the ingredients are well distributed throughout the bread crumbs.
3
Add 1 tbsp of the oil to a well seasoned cast iron skillet. Heat the skillet on medium heat on the stovetop until it is very hot.
4
Wash the romanesco, trim down (but not off) its stems and remove its leaves, then quarter or halve the heads depending on their size.
5
Season the cut side of the romanesco, as well as any outer crevasses with the Portuguese sea salt. Place the pieces in the skillet, cut side down. Add a little more oil if necessary to make sure the bottom is coated.
6
Cook the romanesco until it starts to develop a char, about 15-20 minutes. Carefully tilt the skillet around periodically to redistribute the oil.
7
Once the romanesco bottoms have been charred, move the skillet to the hot oven to finish cooking it through, about 10 minutes.
8
Toast the herbed bread crumbs in a skillet until aromatic, tossing frequently.
9
When the romanesco is tender, remove it from the stove. The bottom will look blackened and burnt, but trust us, burnt-looking is exactly what you want.
10
Put the romanesco halves or quarters on a plate, then sprinkle with the toasted seasoned bread crumbs, a drizzle of extra virgin olive oil and flor de sal.