Makes 6 Servings
DRINK PAIRING
Soave from Italy or Trebbiano from Abruzzo
This salad pairs the faint game flavor of roasted quail with a blend of greens and herbs. A great choice for a salad course or very light lunch.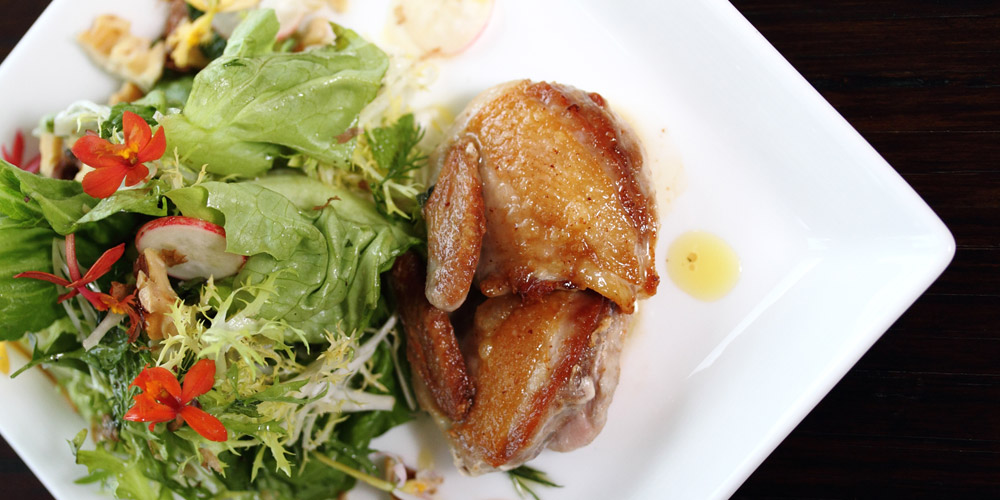 INGREDIENTS
3 whole Quail Airline Breasts (6 half breasts)

1 head of Frisee

1 head of Butter Lettuce

1 head of Green Leaf

French Breakfast Radishes, thinly sliced

1 tbsp Fresh Dill, leaves stripped from the stems

1 tbsp Fresh Mint, leaves stripped from the stems

1 tbsp Fresh Parsley, leaves stripped from the stems

1 cup Walnut halves

1/3 cup of Sherry Vinegar

2/3 cup Olive Oil

2 sprigs Fresh Oregano

2 Garlic cloves, crushed

2 tbsp Butter

Micro Orchids for garnish (optional)

Salt & Pepper
DIRECTIONS
1
Preheat your oven to 350.
2
Spread the walnut meat pieces on a baking pan and toast them in the oven. Once toasted, let them cool and finely chop them.
3
Separate the leaves of the greens. Rinse them and dry them.
5
Place the greens & herb leaves together in a large bowl. Season them with salt & pepper.
6
Separate the airline breasts and trim off any excess skin.
7
Get a thin layer of oil hot in a frying pan, then carefully lay in the breasts, skin-side down. Give them a few minutes to begin to develop a good sear, then flip them and begin to sear the other side. Add the butter, cloves of garlic, and fresh oregano.
8
Continue to cook the quail breasts, periodically basting them with the flavored butter. Remove them from the heat as soon as they're cooked.
9
Drizzle in a small amount of the vinaigrette into the bowl with the salad greens & toss to coat.
10
Pile the dressed greens on a plate garnished with the sliced radishes and toasted walnuts. Put the roasted quail breasts to the side.
11
Drizzle the salad & quail with a little bit more of the vinaigrette. Top the salad with micro orchids if desired. Serve.