Roasted Lamb Shoulder w/ Rosemary & Garlic, Purple Sweet Potatoes
WINE PAIRING
Washington Syrah
This roast shoulder recipe is intensely garlicy and herby, balancing the richness of lamb shoulder meat.  The purple potatoes add sweetness and smooth out the garlic notes.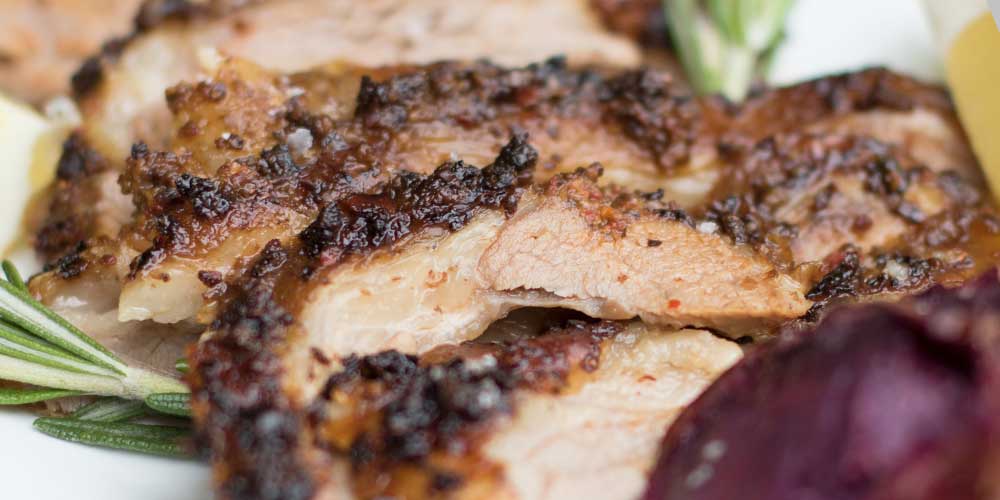 INGREDIENTS
2 lbs Purple Sweet Potatoes
Pair of Disposable Chopsticks
Rub:

1/8 cup minced Garlic

½ Shallot, minced

1 tsp Coriander

2 Nora Chilies

Leaves from 5 sprigs of Rosemary

2 tbsp Extra Virgin Olive Oil

½ tsp Lemon Zest
DIRECTIONS
1
Preheat your oven to 325°F.
2
Split the pair of chopsticks. Place them down on a cutting board close together.  Place one of the sweet potatoes between the chopsticks so that it touches the board but is closely framed.  Thinly slice the sweet potato, using the chopsticks to keep your knife from going all the way through.  Repeat with the other sweet potatoes.
3
Make the rub: Deseed and de-stem the nora chilies, then grind them with the coriander. Combine them in a food processor with the lemon zest, shallot, rosemary leaves, extra virgin olive oil and garlic.  Process into a paste.
4
Cut slits in the shoulder meat and rub it with the mixture until evenly covered on both sides. Save a little bit back for the potatoes.
5
Rub the sweet potatoes with oil. Gently open up their slits and apply the remaining rub.
6
Place the shoulder on a rack in a roasting pan or sheet tray along with the sweet potatoes. Move it to the oven and roast until the sweet potatoes are cooked (about 50 minutes).
7
Remove the sweet potatoes from the pan, then continue to roast until the shoulder is done (approximately an hour & 15 minutes total).
8
Slice the meat and serve it with the sweet potatoes, salt, and lemon wedges.