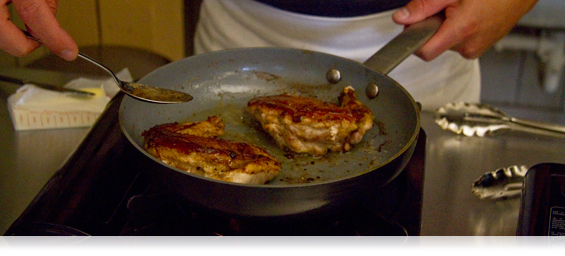 This chef-favorite technique cooks pheasant breasts perfectly, resulting in juicy, tender, golden brown and incredibly flavorful meat.  If you have whole pheasants, you can separate the breasts from the rest of the bird using the instructions in How to Cut Up Poultry.
1. Optional: If using a skin-off pheasant breast, coat it with a very light layer of flour.
2. Season both sides of the breast liberally with salt & pepper.
3. Heat a sauté pan or skillet over medium high heat.  Add just enough canola, peanut, or grapeseed oil to coat.
4. When the oil just begins to smoke, carefully add the pheasant breast to the pan (skin side down if skin-on).
5. Reduce the heat to medium and cook the breast for about 10 minutes (until the sides are about half opaque) without touching it.  Don't move it around, flip, etc.  You want to develop a good golden-brown sear.
6. Flip the breast over and pour off the excess oil.  Add a tablespoon of butter to the pan.
7. Optional: for more flavor, add a few sprigs of fresh thyme to the pan along with the butter.
8. Reduce the heat further to medium-low and cook the other side of the pheasant breast.  Baste the breast with the melted butter every few minutes.
9. Once the breast has cooked through (10 minutes or so after flipping), remove it from the heat and let it rest (loosely covered) for roughly five minutes.
10. If desired, slice the breast to make it easier to eat and dust with your favorite finishing salt.
11. Serve!
__________
Browse More:
Poultry Recipes
Culinary Techniques