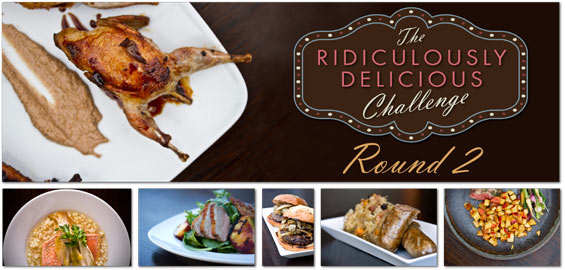 The 21 challengers who advanced to the 2nd round of the Ridiculously Delicious Challenge have proven that they are just that:  Ridiculously Delicious.  
We sent each challenger a box containing a free sample of each of the following: Grains of Paradise, Szechuan Peppercorns, Dried Tepin Peppers, Juniper Berries, Coconut Sugar, Dill Pollen.  Their challenge was to create a ridiculously delicious original recipe using two of the ingredients.
Here are their recipes:
Katie at the Kitchen Door – Cucumber Cups with Feta-Dill Stuffing & Lemon-Szechuan Dressing
Plate Fodder – Pan Roasted Pork Rib Eye with Juniper Berry-Grains of Paradise Rub & Juniper-Scented Potato Cakes
Lemongrove Avenue – Sweet & Spicy Vegetarian Chili
Tri to Cook – Blueberry Cherry Crisp & Grains of Paradise Ice Cream
Big Apple Nosh – Spicy Cherry Truffles
Leslie Uhl – Coconut Creamy Bread Pudding with Cherries
Joanna Marco – Tepin Chile Corn Mini-Muffins with Coconut Sugar
We Like to Cook! – Fettuccine Alla Carbonara
Exciting News from the Paper Shredder – Springtime Potato Salad
A Thought For Food – Chocolate Cherry Scones with Saffron
Lawyer Loves Lunch – Chermoula Fish Tacos & Moroccan Slaw
Cookistry – Shallow-Braised Lamb Steaks & Red Wine Reduction
Food Hunter's Guide to Cuisine – Cherry Chocolate Almond Rugelach Seasoned with Grains of Paradise
Snippets of Sue – Poached Salmon, Roasted Brussels Sprouts & Mashed Cauliflower Croquettes
Healthy. Delicious. – Saffron Game Hen & Wild Rice Dressing with Cherries & Pistachios
Kate in the Kitchen – Szechuan Shrimp Cake & Chile Mango Dipping Sauce
Eats Well With Others – Oven-Fried Tepin Chile Chicken, Waffles & Juniper-Pomegranate Maple Syrup
LostPastRemembered – Chocolate Mousse, Coconut & Szechuan Peppercorn Sabayon
ChezWhat? – Sour Cherry Ice Cream, Coconut Sugar Threads & a Pastry
Dinner at Christina's – Lucia Buns
Chef It Yourself – Arroz con Cordero
Read the Original Challenge Post to see a full synopsis.