Serving foie gras raw is a daring choice, and not for everybody, but this dish is a great way to try it.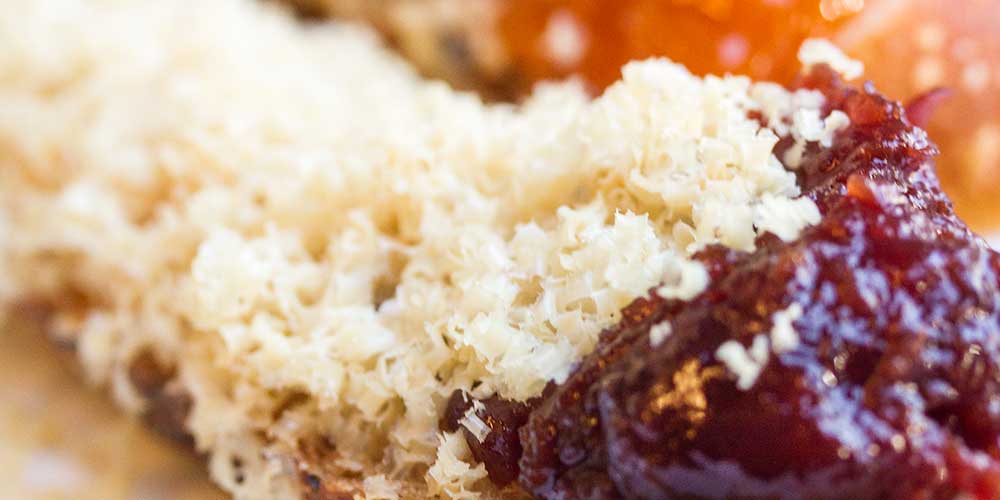 INGREDIENTS
1 Baguette Style Loaf of Bread

2 oz Extra Virgin Olive Oil (more for finishing oil)

One 2 oz portion of Grade A Foie Gras, well chilled

1 Jar Artisan Jam (any fruit will work – we used Ayako & Family Apricot)

Basil Tips

Finishing Salt (fleur de sel, Jacobsen Sea Salt, etc)
DIRECTIONS
1
Preheat your oven to 375 degrees.
2
Slice the baguette on the bias in 1/2 inch thick slices and place in a single layer on a sheet tray.
3
Drizzle the baguette slices with olive oil and season with salt and pepper. Top them with a silicone sheet (this will help your soon-to-be crostini brown evenly).  Place in the oven and bake for 10 minutes, then rotate the pan and bake for another 10 minutes.
The crostini should be crunchy and mostly dried out.
4
Allow the crostini to cool enough to handle, then top them with a thin layer of jam.
5
Retrieve the foie gras from the fridge. Use microplane grater to shave a nice pile of foie gras directly on the crostini.
6
Place a basil tip (or small leaves) on each crostini and drizzle with olive oil. Top with finishing salt and serve.