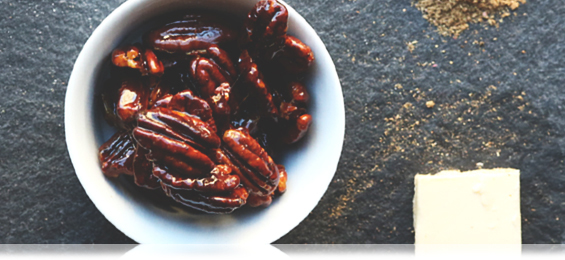 Ras el Hanout Spiced Nuts
These delicious candied nuts get their depth of flavor & complexity from Ras el Hanout, a fragrant blend of top shelf spices used as a general purpose seasoning in many North African countries.
Ingredients:
½ cup Granulated Sugar
¼ Brown Sugar
1/8 tsp Salt
¼ cup Water
1 tbsp Ras el Hanout
1 tbsp Unsalted Butter
1 cup shelled Whole Nuts (any will do)
Directions:
Combine all of the ingredients except for the nuts and butter in a thick bottomed pan (the mixture's consistency should resemble wet sand).
Heat the pan over medium-high heat until a syrup is formed & it starts to brown.
Add the nuts and the butter. Continue to cook until the nuts have toasted and are evenly coated with the caramel.
Pour the pot's contents onto a non-stick surface (we recommend a silicone baking mat) to cool before serving.

Recipe by Jake Vorono
___________
Browse More:
Nut Recipes
Spice Recipes & Techniques