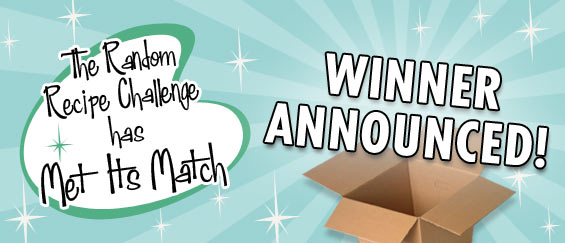 Congratulations are in order for one lucky blogger…but you have to read the WHOLE post to find out who it is (or you can scroll to the bottom of this post, but we like the suspense).
We have to admit, this challenge was hard to judge! We sent all of our bloggers 5 random ingredients and tasked them with creating an original recipe using at least 2 of the 5 ingredients. Some challengers received dried mushrooms, some received coconut sugar, some received smoked sea salt, just to name a few. If you think it sounds a little crazy, it was. We like to make things fun around here.
To all of the bloggers, thank you for participating! You are all delicious. To see all of the tasty recipe submissions, check out this list:
3 Sides of Crazy's Pan Seared Chicken Tenders and Couscous with Coconut Lobster Sauce
Restless Chipotle's Spicy Chai Pavlova with Maple Cream
Okay, Check it Out's Toasted Couscous with Lamb and Eggplant
Tri2Cook's Chile Chocolate Tart
Tattoos and Champagne's Risotto Mexicana
Hye Thyme Cafe's Wild Rice Krispies
Edesia's Notebook's Coconut Sugar and Spice Salmon
Funny (allergen-free) Girl's Spanish Pork Rice
The Smart Kitchen's Coconut Couscous Pudding
Curious Appetite's Wildy Stuffed Squash Recipe
Cookistry's Stuffed Peppers with Lobster Mushroom Sauce
The Bad Girl's Kitchen's Spicy Coconut Custard with Candied Coconut
Savory Sweet Living's Coconut Caramel Pulled Pork Empanadas
Snacking in the Kitchen's Tri Colored Couscous with Habanero Coconut "Lobster" Curry
Romeo Cucina's Randomly Awesome Auburn Rice with Chanterelles & Chilies
Joy's Misadventures' Chicken Mole with Mochi Rice
Little Dog Lost's Slow Braised Chili con Carne
After salivating over all of the submissions, we finally chose our top recipe. We have crowned Curious Appetite's Wildy Stuffed Squash Recipe as the challenge champ! We thought Curious Appetite did a fantastic job using the random ingredients we sent her to create a recipe that has a great balance of texture and flavor. She created a harmonious and cohesive dish and if you think it looks good, give her some love on her blog.
Congratulations Curious Appetite! Thanks again to everyone for participating.